Every now and then Walker-Sports likes to delve into the gossip column and today we are once again diving in headlong. Olympic Gold Medalist Michael Phelps seems to have found a new distraction to keep himself occupied while he serves a suspension for smoking pot. According to Radaronline.com the Olympic Medalist is dating Miss California and Miss U.S.A. runner up Carrie Prejean.
Carrie Prejean made a name for herself during the Miss. America pageant by making an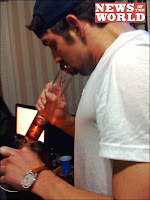 ti-gay marriage comments. Now according to Prejean's grandmother Carrie and Phelps have gone out several times. Whenever the swimmer makes his way out to California he is sure to call Miss California and take her out.
I guess those two must have some interesting conversations while out to lunch. The pothead and the dolt, good luck with that one Phelps.