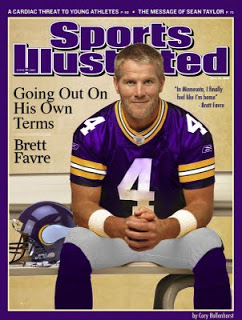 It's pretty obvious that the top headline grabbers this summer have been Brett Favre and Mike Vick. However, oddly enough the similarities between the two gunslingers does not end there. Apparently both men have the ability to put an animals health in danger.

According to authorities in Winona Minnesota, a woman had a goat painted purple and gold locked in the trunk of her car and she was preparing for a sacrifice. The goat, which had a '4' shaved into its fur, was found by mechanics when the woman brought her car into a shop to have a fan belt replaced. After hearing the animal crying in the trunk the mechanics rescued the goat, where it was then turned over to authorities.

The Wiona police department have confirmed this to be a true and very accurate story. Oh, did I mention the goat was found on Friday afternoon just hours before Favre would play his first game as a Minnesota Viking.

If nothing else, this story goes to show that people in Minnesota are just crazy.