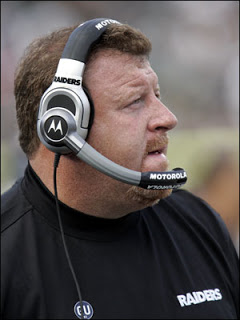 Fights in training camp are part of football. Matter of here at Walker-Sports we like it when teams fight in camp. A good fight can give a team a spark and help them work through the dog days of summer. Most coaches when taken off the record would tell you they concur on that front.

And then there is the Oakland Raiders who can't seem to get anything right. According to reports coming from Raiders camp in Napa Valley, Oakland head coach Tom Cable found himself in an altercation with one of his assistants.

Tom Cable got into a fight with defensive assistant Randy Hanson in the hotel lobby at the Napa Valley Marriott. Police were called to investigate the incident after it was determined that Hanson's suffered a broken jaw at the hands of Raiders coach Tom Cable.

Police said that Hanson refused to press charges, and unless he changed his mind they wold not peruse the case any farther.