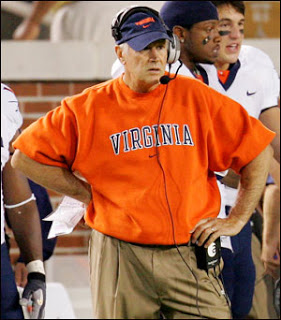 According to a report coming from the University of Virginia's website, the school has come to terms to dismiss head coach Al Groh. This comes after a 42-13 beating from instate rival Virginia Tech on Saturday, and concludes a 3-9 season, a low point for the program. Al Groh had two years remaining on his contract. The reported buyout is worth 4.3 million dollars.
Groh, a Virginia alum who became the Cavaliers' coach in 2001, had a 59-53 record. The Cavaliers finished with a losing record in three of Groh's final four seasons. Groh's dismissal should come as no surprise to anyone familiar with the Virginia football program. There have been rumors circling the program of Chris Peter of Boise State, and former Auburn coach Tommy Tuberville coming in to coach next season.
The school says they will make an official announcement on Monday or Tuesday.