I know the 2009 football season is not over yet, and there's still the Super Bowl to be played in a few weeks, but it's never too early to start planning for 2010. The first step is the NFL Draft. The combine is just over a month away, but the top seniors in the country are gathering and prepping for the senior bowl. Thanks to some of our correspondents and draft experts, we were able to put together an early Mock draft. Remember all of these picks are subject to, and will change over the next two months.
St. Louis Rams Ndamukung Suh DT:
The big man from Nebraska is a can't miss draft pick. He's a game changing player the likes we have not seen since Warren Sapp entered the draft. Suh will be a big step in the right direction for rebuilding the Rams.
Detroit Lions
Gerald McCoy DT:
This is one time the when getting the second pick may not be a bad thing. Gerald McCoy can pretty much do everything Suh can. In fact he probably possess more potential than Suh.
Tampa Bay Bucs Eric Berry S:
It's not often you see a safety taken this early in the draft, but the 2010 NFL Draft is all about defensive backs. Eric Berry can flat out play, and he is a can't miss prospect. The Bucs can thank Lane Kiffen for shaking up the Vols program enough to shake Berry loose and get him to go pro.
Washington Redskins Anthony David OT:
Some experts have Jimmy Clausen going in this spot, stating that new coach Mike Shannan wants to built his own quarterback. The problem is the Jason Campbell factor. Campbell put together a solid season despite the Redskins record, and his young receivers are finally growing into their own. The end result is keep Campbell and fix the glaring problem of no offensive line.
Kansas City Taylor Mays S:
Yes, that's two safeties taken in the top ten. Taylor Mays is a physical marvel. He put together three All-American seasons before an injury plagued senior campaign. That being said, he is big, fast and a hard hitter. It doesn't take long before the Rodney Lott comparisons come out.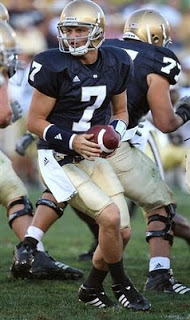 Seattle Seahawks Jimmy Clausen: QB:
If the Redskins pass on taking the first quarterback in the draft, then look for Seattle to begin their post Matt Hasselback era. He's not getting any younger and they Seahawks need to address that issue at some point. Seattle could chose a running back with this pick as well.
Cleaveland Browns Joe Haden CB:
Haden may have the best all around talent of any corner coming out this year. Sure Cleveland has a pair of young corners in house already, but talent like Joe Haden is hard to pass up.
Oakland Raiders Sam Bradford QB:
Okay, there are plenty of 'what ifs' associated with this pick. First, Al Davis still runs the Raiders so no one has a clue what he's thinking. Second, picking Sam Bradford also goes with the idea that Tom Cable will be gone and Mike Leach will be calling the plays. Oh yeah, the Raiders also need to find a way to offload former first one pick JaMarcus Russell.
Don't be surprised if the Raiders go with Russell Okung if Tom Cable is still the coach, he'd love to get a big time offensive linemen.
Buffalo Bills Russell Okung OT:
The Bills need a quarterback, and if Bradford drops you can rest assured they will snatch him up. If he's not available, you cannot go wrong with building your line and trying to keep your stand in quarterback upright.
Jacksonville Jaguars Rolando McClain LB:
Okay so this spot was originally reserved for Tim Tebow, but judging by his performance thus far this week, he has likely played his way out of the first round, and maybe the league.
With Tebow out of the picture, the man who terrorized The Chosen one in the SEC Championship game is once again available. Rolando McClain is considered the smartest defensive player Nick Saban has ever coached. That is a huge compliment considering the complexity of his defenses. There is no doubt McClain will be able to slot right into the Jacksonville defense and make and impact.
Denver Broncos Dez Bryant WR:
Brandon Marshall will not be a Bronco next season. It's a miracle he lasted in Denver as long as he did this year. Dez Bryant was screwed out of his last season at Oklahoma State. He hasn't played in almost a year and he is ready to show why he was one of the best wide outs in 2008.
Miami Dolphins Dan Williams DT:
This man is an anchor in every way possible. Think of what Albert Haynesworth is when he actually tries. That what you get with Williams. The Dolphins could use a wide out and if Bryant were to fall they'd take him, but if he does not there are plenty of others available in the later rounds.
San Francisco 49'ers Bryan Buluga OT:
Mike Singletary likes to run the ball. Bryan Buluga gives him a massive offensive tackle who will be a staple for a long time to come.
Seattle Seahawks: CJ Spiller RB:
Seattle has a rare opportunity to draft the backfield of their future all in one draft. Tennessee had a shot at this a few years back when they got LenDale White and Vince Young in the same draft. If the Seahawks pick up CJ Spiller they get the stud running back they
have been missing since Sean Alexander hit the wall in 2007.
New York Giants Brian Price DT:
What the Giants really need is a middle linebacker but there is not one available at this position. I could the Giants trying to move this pick or bundle it. Who knows exactly.
Tennessee Titians Derrick Morgan DE:
The Titians are still adjusting to life post Haynesworth. Bringing in Morgan gives them a true pass rusher on the end, which could really change the look of that defense.
San Francisco 49'ers Carlos Dunlap DE:
Despite some of the off the field issues, Dunlap can play football. Like other problem children head coach Mike Singletary has dealt with, Dunlap can be kept in line. The 9'ers could use a quarterback but I don't see them picking one up right here.
Pittsburgh Steelers Trent Williams OT:
The Steelers have no had a power running game is some years. Big Ben is getting destroyed on the field, and there is no way he can keep up at the pace he is going. Enter Trent Williams to provide some stability on a very weak offensive line.
Atlanta Falcons Patrick Robinson CB:
The Falcons struggled defending the deep ball last season. Patrick Robinson suffered a few injuries this past year that slowed him, but he has all the tools you want to see from a top quality corner.
Houston Texans Earl Thomas CB/S:
The Texans need help on defense. They also need a kicker, but only Oakland blows a first rounder on that. Earl Thomas can play corner or safety and he is good against the run and the pass.
Cincinnati Bengals Jermaine Gresham TE:
Ignore the fact that Gresham was injured all of last season. The kid can play. Add him into the mix of Ocho Cinco and possibly Brandon Marshall and you have a passing attack that will scare even the strongest secondary.
New England Patriots Everson Griffen DE:
He's out of the Pete Carroll system and he can play defensive end or linebacker. The perfect fit for Belichick.
Green Bay Packers Donovan Warren CB:
He went to Michigan, and he is a lock down corner. That worked out well last time the Packers went down that road. Now if Charles Woodson can teach Donovan Warren everything he knows, Green Bay will be in good shape.
Philadelphia Eagles Mike Iupati OG:
The Eagles offensive line got eaten up by the Cowboys on three occasions this past season. They need help and they need it soon.
Baltimore Ravens Syd'Quan Thompson DB:
It's a typical story, the Ravens need a receiver, and they will once again elect to pass on one in favor of defense. At least somethings are consistent in the NFL.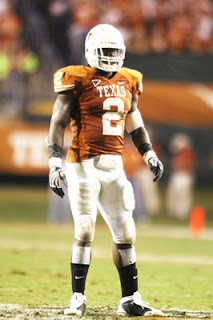 Arizona Cardinals Sergio Kindle OLB:
Did you see the Cardinals two playoff games? They need all the help they can get on defense.
Dallas Cowboys Bruce Campbell OT:
The Cowboys offensive line has been dominate but they are also aging quickly. Bringing in Campbell will help to drop the average age of this unit bellow 34 years old.
San Diego Chargers Terrence Cody DT:
This is a mountain of a man at 375 pounds. If the Chargers stick him in the middle of their line, it will take a stick of dynamite to blast him out of there.
New York Jets Perrish Cox CB:
Stick anyone on the other side of Revis and they will get a chance to make plays. A lot of young players would shy away from that challenge, but Perrish will not.
Minnesota Vikings Jared Odrick DT:
It looks like Brett Favre may not be the only old man leaving Minnesota. Defensive tackle Pat Williams is talking retirement as well. Restocking with Jared Odrick insures they Vikings will not miss much.
New Orleans Saints Ricky Sapp OLB:
Sapp would be a welcome addition to play along side Jonathon Vilma.
Indianapolis Colts Jerry Hughs DE:
Undersized and quick. It's the defensive player the Colts love.