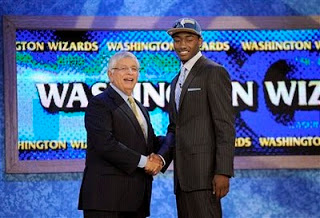 The 2010 NBA Draft took place last night in New York City and every NBA team was doing their best to improve their status for the upcoming season. I am no NBA historian but from the looks of things there were more draft day trades than I have ever seen. This made for an exciting night, and with the biggest free agency period in history just around the corner, you can rest assured there will be plenty of movement in the upcoming weeks. However, before we get to free agency, let's break down the draft and see who won big and set their franchise up for the future, and who will continue to struggle.
Washington Wizards: A

Round 1: John Wall (1), Kevin
Seraphin
(17, obtained from Chicago), Trevor Booker (23, obtained from Minnesota)
Round 2:
Hamady
N'diaye
(56, obtained from Minnesota)
The Wizards couldn't miss with with John Wall at the first pick, so that is good enough to give them a B at the very least. A lot of people are excited about Kevin
Seraphin
who is a big body, but he is young (20) and he has a lot to learn on the offensive side of the ball. However, the trade that brought Kirk
Hinrich
to Washington was a good move and it also gave the
Zards
the chance to pick up Trevor Booker who is a big bruiser and something the Wizards need badly.
Philadelphia 76'

ers

: B
Round 1: Evan Turner (2)
Much like the Wizards, the 76'
ers
had a gimme pick in Evan Turner. He was the best player in college basketball last year, and he has the size and skill to become an All Star in the NBA. The downside to the pick is the 76'
ers
already have a rangy scoring guard in Andre
Iguodala
, a player I was high on as recently as a year ago. If the two of them can mesh in the back court and share the ball this could be a great pick, if not, then it's another bad pick by Doug Collins. The overall grade would have been higher if the 76'
ers
had more than one pick.
New Jersey Nets:
B
+
Round 1: Derrick Favors (3), Damion James (24, obtained from Atlanta)
The Nets had the first controversy of the NBA Draft as it was difficult to tell what they were going to do with the third pick. New Jersey was rumored to trade out of the pick as late as last night, but in the end they decided to stay put and got a gem in Derrick Favors. The big man has all the upside in the world. He's 6'10 245 pounds, and none of the headaches that comes with
DeMarcus
Cousins. Favors skill set will be a great compliment to Brooke Lopez. Damion James is a four year college player who will be a work horse in the NBA.
Minnesota

Timberwolves

: B-
Round 1: Wesley Johnson (4), Lazar Hayward (30, obtained from Washington)
Round 2:
Nemanja
Bjelica
(35, obtained from Washington), Paulo
Prestes
(45)
Once again the
Timberwolves
managed to confuse me with their draft day actions. Drafting Wesley Johnson was a good move, and he has the skills to fit into that lineup and make an
imediate
impact. After that the moves the
Timberwolves
made were confusing. Lazar Hayward is a solid producer, but they did not need to trade up to get him.
Sacramento Kings: B
Round 1:
DeMarcus
Cousins (5)
Round 2:
Hassan
Whiteside
(33)
Some people were very happy with the Kings draft, I was not as excited about their picks. Obviously
DeMarcus
Cousins is a great player. If he can remain focused and keep his weight down he has the tools to become a dominate big man in the NBA. However, if he lets his lack of
discpline
take over he could be the next
Rasheed
Wallace. Good, but not great. In
Hassan
Whiteside
, the Kings got the
poor mans
DeMarcus
Cousins.
Whiteside
is a big body who is not sure how to use it or put it all together on the court. If he can receive the proper coaching and is given a chance to grow,
Whiteside
could mature into a solid
contributer
on the Kings roster.
Golden State Warriors: C
Round 1:
Ekpe
Udoh
(6)
The Warriors had the opportunity to do something special with this pick and instead they dropped the ball.
Ekpe
Udoh
is a good player, and a lot of scouts are high on him, however he was not a #6
caliber
player in my book, especially given the current Warriors roster. They would have been better off with Greg Monroe.
Detroit Pistons: A-
Round 1: Greg Monroe (7)
Round 2:
Terrico
White (36)
It looks like the Pistons are back to making smart draft picks. Greg Monroe is one of my favorite players in the NBA Draft. If he
continues
to improve at the rate he did between his freshman and sophomore year of college the Pistons could be in for something special.
Terrico
White is a bit of a project but he is an amazing athlete who will be a fun project to watch grow up.
LA Clippers: A
Round 1: Al-
Farouq
Aminu
(8), Eric
Bledsoe
(18, obtained from Oklahoma City)
Round 2: Willie Warren (54)
Yes the Clippers got an A for their draft because they knocked this one out the park.
Aminu
is an athletic
big man
who is a great
rebounder
, and he can run the court. If he continues to mature, the duo of him and a returning Blake
Griffen
will be one helluva front court to contend with. Eric
Bledsoe
is the best player that you forgot about because he is overshadowed by his teammates. If
Bledsoe
does not play for Kentucky he goes in the top ten.
Bledsoe
knows how to run a team, and with the weapons he has around him, the Clippers could sniff the playoffs once again.
Utah Jazz: B-
Round 1: Gordon Hayward (9)
Round 2: Jeremy Evans (55)
The Jazz caught the short end of the stick in this year's draft. They had their hearts set on Greg Monroe, and with him off the board they were forced to pick from a group of players who they all felt were fairly equal in terms of talent. In Gordon Hayward the Jazz have a guy who can step in and replace Kyle
Korver
who is expected to become a free agent next week. Hayward's offensive ability is solid however he will be a liability on defense.
Indiana Pacers: C+
Round 1: Paul George (10)
Round 2: Lance Stephenson (40), Magnum
Rolle
(51, obtained from Oklahoma City)
Typically Larry Bird does well in the NBA Draft, however even an All Star has an off night.
Unfortunately
for Pacer fans it came during the NBA Draft. The Pacers needed help at point guard, instead they get a swing man who looks a lot like the franchise player they already have name Danny Granger.
New Orleans Hornets: A-
Round 1: Craig
Brackins
(21, obtained from Oklahoma City), Quincy
Pondexter
(26, obtained from Oklahoma City)
The Hornets traded away the 11
th
pick, and as a result they failed to make a big splash in the draft. However, the long term affects of the trade are far more significant than anything they would have received via the draft. By trading away the 11
th
pick and Mo Peterson, the Hornets saved themselves over $7 million. This is important because if got the Hornets under the luxury tax and it will go a long way in helping them retain Chris Paul as he approaches free agency in the next year.
Memphis Grizzlies: C-
Round 1: Xavier Henry (12),
Greivis
Vasquez (28)
There is no shortage of shooting guards on the Grizzlies roster. From the looks of things they should average over 100 points a game next season. Xavier Henry is a scorer and a bit of a gunner. If Rudy Gay opts out of Memphis there is a chance Henry can step in and play the wing. However, there is no doubt he is too small to play the small forward. In
Greivis
Vasquez the Grizzlies get a guy who is gutsy and a leader on the floor. Again Vasquez is a
tweener
. He played point while at Maryland, but he is more of 2 guard. His shot is
inconstant
, but that does not stop him from taking his share of shots.
Toronto Raptors: B

Round 1: Ed Davis (13)
Round 2: Solomon
Alabi
(50, obtained from Dallas)
Chris Bosh is out the door this summer with free agency, Ed Davis can step in and replace his production, kind of. Many people had Ed Davis as the 8
th
ranked player overall in the draft. I am not as high on Davis, but time will tell.
Houston Rockets: B-
Round 1: Patrick Patterson (14)
I like Patrick Patterson a lot. He is the work horse type of player that I love to see. Nothing flashy, nothing special, but he goes to work in the paint and comes away with 10 plus rebounds every night.
Milwaukee Bucks: B

Round 1: Larry Sanders (15)
Round 2:
Darington
Hobson
(37), Jerome Jordan (44), Keith Gallon
Small school big product, that's what you get with Larry Sanders. Yes, he has some work to do, and he will need to put on some weight to take the wear and tear of a NBA season. Despite that, Sanders is ready to perform right now. He is athletic and a great shot blocker. Two things the Bucks are currently lacking on their roster.
Portland Trailblazers: B+
Round 1: Luke Babbitt (16, obtained from Minnesota), Elliot Williams (22)
Round 2:
Armon
Johnson (34)
The Blazers had a great draft, but that was overshadowed with what happened before the draft. GM Kevin
Pritchard
was fired an hour before the draft began. He was then asked to stay on and complete the draft, not only did he do that, but he did a great job with it. Imagine sticking around the job you were fired from for an extra day. Luke Babbitt is an
absolute
steal at this pick. He has a 37 inch
vertical
and he is strong beyond his size. He has a great stroke when shooting. With
Babbit's
build he is a lock as an NBA small forward.
Chicago Bulls: Who knows
Round 1: Kevin
Seraphin
(17, traded to Wizards; pending completion of deal)
It's tough to give the Bulls a grade as it is unsure exactly who they drafted. The pick of Kevin
Speraphin
is slated to go to the Wizards pending the completion of a trade on July 8.
Oklahoma City Thunder: B+
Round 1: Cole Aldrich (11, obtained from New Orleans)
Round 2:
Tibor
Pleiss
(31, obtained from New Jersey via Atlanta), ,
Latavious
Williams (48, obtained from Miami), Ryan Reid (57, obtained from Indiana)
The Thunder were movers all week long and continued through the draft. Thanks to a trade with New Orleans the Thunder were able to
acquire
Cole Aldrich. This gives Oklahoma City a legit center in the middle.
Tibor
Pleiss
is a great defensive presence. His offensive skill will come along, but he can make an
impact
on defense now.
Boston Celtics: C
Round 1: Avery Bradley (19)
Round 2: Luke
Harangody
(52)
The last few weeks have not gone the way the Celtics would like. Avery Bradley is a fine NBA draft pick but the Celtics already have an undersized guard who is
scrapy
, and no disrespect to Bradley but I doubt he play that role as well as Rondo. The Celtics are on the doorstep of
beginning
a massive rebuilding project and they did nothing to address any of those needs. In Luke
Harangody
, the Celtics did find their replacement to Brian
Scalabrine
.
San Antonio Spurs: B

Round 1: James Anderson (20)
Round 2: Ryan Richards (49)
Once again the Spurs managed to find quality players in the later part of the draft. In James Anderson the Spurs got one of the best shooters in the drafter. Thanks to a hamstring injury he managed to slip down the draft and fall into San Antonio's lap. Ryan Richards is a bit of a project, but lucky for the Spurs they don't need him to step in right away. There's a chance he is even sent to the D-League to gain some more experience.
Dallas Mavericks: C+
Round 1: Dominique Jones (25, obtained from Memphis)
Not a bad pick, but Jones is nothing overly special. He is a creative player who can get into the paint and get his own shot. However, he is a bit
under size
and may find the lanes in the NBA a bit more crowded than they were during his college days. Dominique Jones also has a jump shot that is suspect.
Atlanta Hawks: B
Round 1: Jordan Crawford (27, obtained from New Jersey)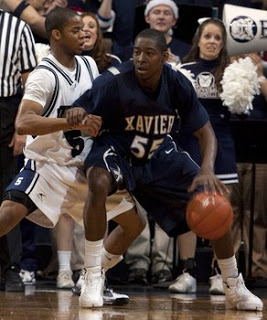 Round 2:
Pape
Sy
(53)
If Joe Johnson is on his way out of Atlanta they may have found his scoring replacement. Crawford has a non-stop motor and he has a great ability to put the ball in the basket. In addition to showing off his great
vertical
while in the lane, Crawford has crazy deep range that he is not afraid to show off. If there is a knock on Jordan Crawford it is his maturity level. If things don't go his way he can get down and make some stupid plays. In addition he is a volume shooter.
Orlando Magic: B-
Round 1: Daniel Orton (29)
Round 2: Stanley Robinson (59)
Despite picking late in both rounds, the Magic managed to find some talent in this year's draft. Both Orton and Robinson have a ton of upside and can become steady producers for the Magic. The downside to both players is they likely won't be able to help the Magic any time in the near future.
LA

Lakers

: C-
Round 2: Devin
Ebanks
(43), Derrick
Caracter
(58)
When you're picking late in the second round there's not a lot of talent left. The
Lakers
did an okay job with what they were given. However, let's be honest the
Lakers
are built to win now, and they will worry about rebuilding when Kobe Bryant decides to slow down.
Miami Heat B+

Round 2: Dexter Pittman (32), Jarvis
Varnado
(41),
Da'Sean
Butler (42)
Despite not doing much with their picks, the Heat did a great job in this year's draft. They managed to pick up a few quality
contributers
but more importantly they keep their
salary
cap numbers down. They are now ready to splurge in the free agent market.
New York

Knicks

: D
Round 1: Andy
Rautins
(8), Landry Fields (9)
Not really sure what the
Knicks
were thinking. At least in the past you could blame strange drafts on Issiah Thomas. In
Rautins
the
Knicks
get probably the best shooter in the draft. In Landry Fields the
Knicks
got a good athlete who has no really upside.
Denver Nuggets: F
Can't have a good draft if you don't draft anyone.
Cleveland Cavaliers: F
Maybe the
Cavs
know something about
LeBron
James coming back next year that the rest of us don't. For their sake let's hope that's true.
Charlotte Bobcats: F
When Michael Jordan is running your team there's really no hope.