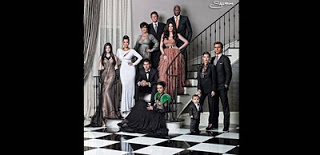 In what may be a first for Walker Sports we get to mention the Kardashians in an actual blog post, and it has absolutely nothing to do with who Kim Kardashian is dating. Actually this time we are all talking about all of the Kardashians young, old skinny fat, whatever they got, and their spouses.
It has come to our attention that like most things in the Kardashian house, they take Christmas cards to an extreme. Sure we have all had to stand in front of a fireplace or some cheap fake backdrop in a mall photo booth for a Christmas card, but when your a Kardashian, cheap simply will not do.
The Kardashians went all out for this year's Christmas card and they choose to use a glam theme which saw the men wearing tuxedos and the women in long dresses. Making this Christmas card even more interesting is the inclusion of two champions, Olympic champion Bruce Jenner, and NBA champion Lamar Odom both of whom are married to Kardashian women.