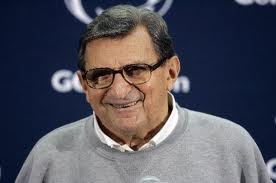 After days of speculation, it was finally announced, Penn State has fired head football coach Joe Paterno. The firing comes as part of the fallout from a sex scandal that rocked the college football world, and destroyed the reputation of the town known as Happy Valley.
There has been plenty of speculation about Joe Paterno's future after the news of the scandal hit. Earlier today, Paterno released a statement stating he would retire when the season was over. However, that was not soon enough for the Penn State board of trustees who held an emergency meeting that resulted in Joe Paterno and Penn State president Graham Spainer being fired.
In their statement, the board announced, "The Pennsylvania State University Board of Trustees and Graham Spanier have decided that, effective immediately, Dr. Spanier is no longer president of the University. Additionally, the board determined that it is in the best interest of the University for Joe Paterno to no longer serve as head football coach, effective immediately.
"The board has named Dr. Rodney A. Erickson, executive vice president and provost, as the interim president of the University. Tom Bradley, assistant coach, has been named interim head football coach."
Despite falling all over themselves, it finally appears that Penn State has done the right thing by removing the cancer from the university, and trying to take the first steps down the long road to recovery. Now with the distraction of Joe Paterno and football out of the way, perhaps we can finally focus on what really matters. Rebuilding the lives of victims who suffered at the hands of former coach Sandusky.