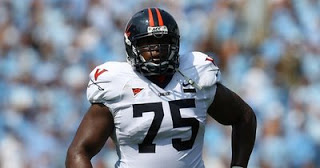 Continuing our look at this year's entrants into the 2009 NFL Draft we make our way from the quarterbacks to the big guys up front, the offensive linemen.
This year's class of offensive linemen is very deep. There is a very good chance that two or three offensive linemen could go within the Top 10 in this year's draft.
The big question is simply who will go of the board first.
Warning, I am not going to break down all the big men by position this is just the best overall linemen.
1) Eugene Monroe, University of Virginia: Monroe helped himself out at this year's combine by doing all the right things. He proved to be a completely natural fit on the football field while going through drills. His bench press strength was a little disappointing (only 23 reps), but lucky for him you don't have to be able to bench press to block. His footwork was great, and the other plus is Eugene Monroe has natural tackle size. He is not too fat which some worry about Andre Davis, and he is not too small which is a knock on Jason Smith.
2) Jason Smith, Baylor: Jason Smith improved his draft stock by proving to be one of the stronge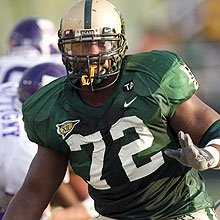 st tackles available in this year's draft. After moving from tight end to tackle there were still come questions about Smith's size and strength. On Saturday, Smith put up 33 reps on the bench press proving he is as strong as anyone in the draft. Smith also proved he still has quick feet from his days as a tight end. With the disappointing showing of Michael Oher, Jason Smith could be the first or second tackle taken off the board.
3) Max Unger, Oregon: What makes Max Unger different than everyone else on thi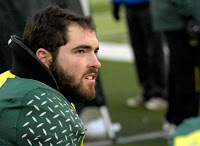 s list? Unger is a center not a tackle. Now I've never heard of a center taken in the top 10 or 15 in the NFL Draft, but Unger will be drafted in the first round of this year's draft. Max Unger has all the makings of becoming a staple on an offensive line in the NFL. Oddly enough what impressed me most about Unger was not his on the field work, but rather his interviews and poise off the field. All attributes that I like out of a center.
4) Michael Oher, Mississippi: Michael Oher was on the top of my draft board not just for tack
les, but I had him going as the number one overall pick in the draft. Needless to say Oher has dropped on my board. Mainly due to the fact that his workouts at the combine were very mundane. While Michael Oher did not do anything bad while he was in Indianapolis, he failed to impress, and with the class of offensive linemen coming out this year, there is simply no room for mediocrity.
5) Andre Smith, Alabama: Andre Smith should send Michael Crabtree a t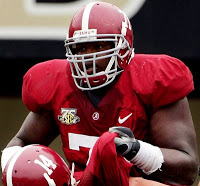 hank you note for taking away a bulk of the media attention. The 2009 NFL Combine will go down as a public relations nightmare for Andre Smith, truth be told everything since about mid December has been a PR nightmare for Smith. Andre Smith abruptly left the combine on Saturday after choosing not to workout. When asked to give a reason, Smith stated that he had not prepared properly. To make matters stranger, Smith then sent word via an agent that he would be working out twice a day this week with a trainer in Atlanta. The issue here is Andre Smith already had a knock against him for being immature. To come to the NFL Combine and then state he was not prepared shows a complete lack of maturity. It is not like the combine jumped out of nowhere to surprise him. I'm not sure what is going through Andre Smith's head, but I would be very leery of drafting him till someone can get a handle on him mentally.