The NFL Combine is set to kick off in a few days in Indianapolis, and while we will bring you all the latest action from Indy there is some other business to take care of at the moment. Before we see how all the top prospects test out, I went ahead and created our first Mock Draft. This is just our initial draft board and it is sure to change as we watch the combines and see who are the movers and shakers. Check back next week to see our updates.
Detroit Lions: Michael Oher OT Mississippi; The Lions could use a quarterback and while that may be the sexy pick to make, I believe they will play it safe. This is a franchise that has blown every draft in recent memory. None of the top QB's in this year's draft are that stellar. Picking up Michael Oher will secure their line and Culpepper can hold the ship for a season.
St. Louis Rams: Eugene Monroe OT University of Virginia; The Rams could use some help in their secondary, but with Malcolm Jenkins being the best available DB in the draft, the second spot is a bit high to draft him. Enter Eugene Monroe a big tackle from UVA which has a history of producing top offensive linemen. Monroe will serve as the apprentice to replace the aging Orlando Pace.
Kansas City Chiefs: Aaron Curry LB Wake Forest; Yes the Chiefs have instability at the quarterback position but with Scott Pioli as GM it's hard to imagine he will blow a top draft pick on a quarterback the likes of Mark Sanchez. K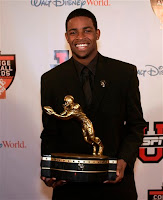 ansas City could also pick an offensive lineman in this spot probably Jason Smith.
Seattle Seahawks: Michael Crabtree WR Texas Tech; It is hard to think of a more perfect fit than Crabtree going to the big play starved Seattle Seahawks. Seattle has needed a playmaker for years and there is none better than Michael Crabtree. On a side note, there is the possibility Seattle could pick a quarterback in this spot with the hopes of finding Matt Hasselbeck's replacement. Think Matt Stafford.
Cleveland Browns: Everette Brown DE Florida State; The Browns defense has been horrible over the last two seasons. They only recorded 17 team sacks last season. With Eric Mangini arriving to town for next year, you can bet the pass rush skills of Everette Brown will be a welcome addition.
Cincinnati Bengals: Jason Smith OT Baylor; The Bengals need help seemingly all over the field. But where they really need help is in the trenches. Carson Palmer was forced to run for his life for the majority of his time on the field last season. Smith is slightly undersized at the tackle position, but he has the best feet of any of the guys available. Andre Smith may be the best tackle left on the board at this point, but his behavioral problems may (I said may) cause the Bengals to steer away from him.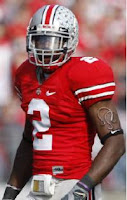 Oakland Raiders: Andre Smith OT Alabama: Andre Smith is probably the most physically gifted of all the linemen in the draft. However, he has proven to struggle with immaturity problems which is why he missed the Sugar Bowl this year. The Oakland Raiders need someone who can step in and protect JaMarcus Russell's backside, and Smith can do that. Plus we all know how the Raiders enjoy a troubled case.
Jacksonville Jaguars: Malcolm Jenkins DB Ohio State; The Jags could go in a number of directions with this pick. Speedster Jeremy Maclin is very tempting. However, the Jaguars really need help on the defensive side of the ball. This is where Ohio State Malcolm Jenkins steps in. Jenkins is the best DB in the game, and he will be able to make an immediate impact on the Jacksonville secondary.
Green Bay Packers: B.J. Raji DT Boston College: With the Packers making the switch to a 3-4 defensive scheme it makes sense that they would look to find a big nose tackle. B.J. Raji is a strong interior defensive lineman who can clog up the middle and attract a double team.
San Francisco 49'ers: Matt Stafford QB Georgia: While head coach Mike Singletary swears he is looking to resign Alex Smith, it is doubtful that he would pass on the opportunity to sign a player the caliber of Matt Stafford. Bringing in Stafford opens a potential three way fight for the starting quarterback job.
Buffalo Bills: Aaron Maybin DE/OLB Penn State: The Bills are in desperate need of an upgrade in their pass rush. Maybin is your prototypical speed pass rusher. He has tremendous closing speed, and can get around the corner. It is also a plus that he can play both DE and OLB.
Denver Broncos: Rey Maualuga LB USC: The Denver Broncos stunk on defense last year. The lack of performance from their front seven is why the Broncos missed the playoffs last season. USC's Ray Maualuga may be the biggest hitter in the draft. Sometimes he needs to be reigned in a little bit, but there is no doubting the immediate impact he can make while on the field.
Washington Redskins: Brian Orakpo DE/OLB Texas: The Redskins need help on both of their lines. Their offensive line is aging and had multiple injury problems last season. So if an offensive lineman falls to them Washington will take them, but most likely drafting a defensive player will be Washington's best choice. Brian Orakpo has a motor like no other; he is a great defensive end with a solid burst on the edge. The Skins got little production from their defensive line last season, so Orakpo could make a good addition.
New Orleans Saints: Vontae Davis CB Illinois: The Saints will look to continue to upgrade their defense through the draft. New Orleans would like a LB, but the best options are off the board at this point. Vontae Davis is probably the best man to man cover corner in this year's draft. His downside is a lack of focus what was shown during his past season at Illinois.
Houston Texans: Brian Cushing OLD USC; The Texans like to find defensive players in the draft. This pick will continue that trend, and like many of their other defensive picks (Mario Williams) this pick should work out. Cushing is a wreck less player who brings a lot of energy to the field. With his speed he could also pose a serious threat as a blitzing linebacker.
San Diego Chargers: Knowshon Moreno RB Georgia; The Chargers are looking at a major overall in their backfield, especially with the future of L.T. looking bleaker every day. While Darren is a solid back, he cannot handle every carry. Granted Beanie Wells is probably a better fit given that he is more of a power back, but Moreno is on the on the board he is simply too good to pass on.
New York Jets: Matt Sanchez QB USC; I know this is been a tongue and cheek pick over the past few weeks but it just works. With Brett Favre hanging out in Mississippi the Jets need to find someone to play quarterback. Stafford is off the board and Sanchez is the only person available to potentially turn into a franchise QB.
Chicago Bears: Tyson Jackson DE LSU; in all honesty Percey Harvin should be the one on the Bears radar, but they obviously have no true interest in offense. Tyson Jackson is a good defensive end and he will be able to boost a Bears pass rush that was anemic at times last season.
Tampa Bay Buccaneers: Percey Harvin WR Florida: The Tampa Bay Bucs are in need of a big play maker on their offense. Harvin is a threat in the running game as well as the passing game. He has game breaking speed and when he as the ball in hand he makes things happen. On a side note, it is possible the Bucs could turn to Beanie Wells with this pick to sure up their rushing game. But I am a believer in taking the best available talent on the board.
Detroit Lions: James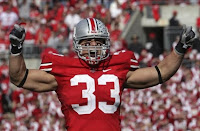 Laurinaitis LB Ohio State: The lions can thank the Dallas Cowboys for this blessing. Two first round draft picks when your team is in as bad of shape as the Lions is simply a blessing. Detroit needs help on Laurinaitis is a solid inside linebacker who can play sideline to sideline. He may not be the biggest hitter or the best athlete but he can be a lynchpin on the Lions for a long time.
Philadelphia Eagles: Brandon Pettigrew TE Oklahoma State: In the Eagles' offense they go to their tight ends on a regular basis. Brandon Pettigrew is one of the best all around tight ends to ever come out. He can block on the line and he has great hands when he gets down field. Despite some off the field issues he has all the tools to make things happen on the field.
Minnesota Vikings: Hakeem Nicks WR UNC; This is a bit of a stretch, not because Nicks but rather because of the needs the Vikings need to fill. Minnesota could easily go with a defensive player here. However, their passing game is horrible, and with no real solid quarterbacks available at this point, a receiver is the next best way to help out their passing attack.
New England Patriots: D.J. Moore CB Vanderbilt; The New England Patriots have a lot of holes in their secondary. Bringing Moore into the fold is a great way to begin filling those needs. Moore has a knack for getting himself involved in plays and he gets his hands on a lot of balls which is good.
Atlanta Falcons: Peria Jerry Mississippi DT; The Falcons did very well in the draft last season, and they will look to build off of last year's success. DT Grady Jackson is aging, and bringing in an athletic Peria Jerry will give their D-Line an instant boost.
Miami Dolphins: Clay Mathews OLB USC; Bill Parcells is still running the show in Miami, that means they will build defense first and then spread out from there. Mathews has a lot of potential on the field, and he can fit in and make an early impact on the Dolphins.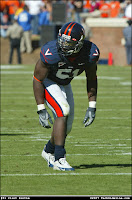 Baltimore Ravens: Clint Sintim OLB University of Virginia; this is a bit of a stretch here, but Sintim could slide into this spot, especially if he test well in the combine this week. The Ravens are obviously a defensive oriented team and Sintim has the type of work ethic that Baltimore likes.
Indianapolis Colts: Paul Kruger DE Utah; The Colts love speedy defensive players. They have always played a bit undersized. Kruger has one of the best motors you will find on a defensive lineman.
Philadelphia Eagles: LeSean McCoy RB Pittsburgh; Don't worry Eagle fans Brian Westbrook is still the feature back in Philly. However he is now 30 years old and injuries have been a concern for several seasons now. Bringing in McCoy gives them a legitimate second running back and someone they can depend on if Westbrook goes down.
New York Giants: Jeremy Maclin WR Missouri; Plaxico Burress is on his way out in New York, that is not a very good secret. Maclin is a big time receiver and he is a threat in the return game. Maclin could step in and fill the big void left by Burress.
Tennessee Titians: Alex Mack C Cal; Tennessee could go in a few different directions with this pick, most notably by finding a receiver like Maryland's Heyward-Bey. However, in drafting Alex Mack the Titians find a replacement for Hall of Famer Kevin Mawae. The Titians would not have to play Mack immediately which means he will have time to grow into his roll.
Arizona Cardinals: Larry English LB Northern Illinois; By signing Larry English the Arizona Cardinals find a replacement for Karlos Dansby. Yes the Cardinals placed the franchise tag on Dansby earlier today (Wednesday) but that is the second time they have done that in two years, most likely this will be his final season in Arizona. With English on the roster, the Cardinals will not need to go searching next season.
Pittsburgh Steelers: Max Unger OL Oregon; The one hole the Steelers have is on their offensive line. Big Ben ran for his life last season and he took some massive hits. Bringing Unger onboard will help to sure up that line, and that will help Pittsburgh to improve their rushing game as well.