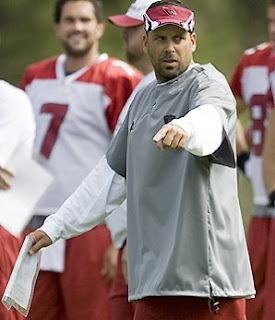 FOXSports.com
has learned that the Chiefs offered the position to Cardinals offensive coordinator Todd Haley and he has accepted. They are now trying to work out terms of a contract agreement.
Haley's name has bounced around the coaching carousel since the Arizona Cardinals made their big splash in the post season this year. According to sources he was in Kansas City earlier this week on interviews with the team.
Todd Haley will be a nice addition to the Chiefs organization. Haley may best be know for his fiery explosion on the sidelines with disgruntled wide out Anquan Boldin. There is no doubt that Todd Haley is an extremely fierce competitor and he will light a fire under what has been an underachieving Kansas City Chiefs team.
However, my once concern with hiring Haley is he may be too much of a competitor to be a head coach. It is okay to be the in your face coach when you are a coordinator, but once you become the head coach it is your job to become a manager. Todd Haley will have to tone his temper down just a bit, especially considering some of the personalities on the Chiefs.