Okay, so last week we came out and took a look at the quarterbacks and wide receivers that are entering the NFL Draft. Now we are going to take some time and look at the running backs that are leaving college early to go to the NFL.
Of all the positions on the field running back is considered the easiest position for a rookie to step in and be able to make an impact on an NFL roster. For the most part the position is relient on instinct and the responsibility does not change much when a player makes the jump from college football to the NFL. There is no doubt there some of these guys leaving college early to enter into the NFL Draft will be an instant upgrade for whatever NFL roster they make.
Chris Wells RB 1st Round: Chris Beanie Wells was the lynchpin of the Ohio State offense over the past two seasons. He is a big back, but Wells also has very deceptive speed with the ability to get to the edge and then run away from linebackers and some defensive backs. The knock on Chris Wells is his health. Not only does he find himself hurt often, he seems to get hurt in the big games or just before them. In all honesty Beanie Wells probably chose to leave Ohio State early to avoid another injury while in college and hurt his drat stock. Wells will go in the first round, but I don't think he should be the first back off the board. I would take him with caution.
Knowshon Moreno RB Projected 1st Round: Moreno may be the most talented young player to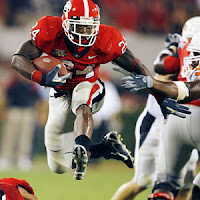 come leave college early and enter the NFL Draft. (Percy Harvins may be the one exception) Knowshon has amazing speed and he has a great burst through the hole when he runs between the tackles. Due to his exceptional athleticism I expect Knowshon Moreno to wow the scouts at the combine and that should be enough to move him into the top ten of this year's draft.
LeSean McCoy RB Projected 1st Round: Most likely McCoy will not come off the board till late in the first round or maybe even early second round. However, look at him to have the same sort of impact that Felix Jones had after he was drafted late by the Dallas Cowboys. LeSean McCoy can flat out play. During his days at Pitt many anointed him as the second coming of Tony Dorett. McCoy did not let anyone down with those expectations.
Donald Brown RB Projected 2nd Round: Brown is a flat out workhorse in an era where workhorse backs are becoming harder to find. He carried UConn throughout the season, and for his final game in the International Bowl Donald Brown ran for 261 yards proving he was ready to go pro. This is a good move becaue of Brown's rushing style he will most likely break down sooner than later meaning he needs to get into the NFL and start making money as soon as possible.
Shonn Greene RB Projected 2nd Round: Talk about the Cinderella story, a year ago Shonn Greene was out of football due to academics. In 2008 he was one of the hottest backs in the country and he was rewarded for his efforts by winning the Doak Walker award. Greene is a tough inside runner and he was the only back to pick up 100 plus yards in every game this season. He should become a solid reliable back for a NFL team. Leaving early was the best thing Shonn Greene could due because his stalk could only go down if he played another season at Iowa.
Glen Coffee RB Alabama Projected 4th Round: I don't really like the fact that Coffee is in this year's draft. He is going to need to really produce at the combine and on pro-day to increase his draft stock. I'm not saying that Coffee is not a good player, but he did run behind one of the best offensive lines in college football. Scouts take that into consideration when evaluating talent of his level.
P.J. Hill RB Projected 5th Round: A lot of people said that P.J. Hill reminded them of Ron Dayne. He is big powerful, patient in the backfield and knows how to set up his blocks. However, also like Dayne, Hill is shaping up to be a shaky NFL running back. He is already experiencing injury problems with is something common for a bruising back of his mold. P.J. Hill will likely go on the second day and you will hear about him late next year or sometime in the future in one of those 'remember when' moments.