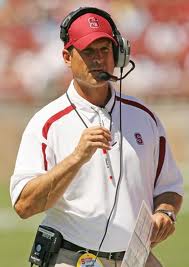 Perhaps the most desired free agent of the pending NFL off season is not a player but a coach. Jim Harbaugh is the current head coach of the Stanford Cardinals, a team he took to an Orange Bowl victory earlier this week. Harbaugh's name has been associated with every major coaching opening both in college and in the NFL, and now it appears the choices have narrowed down themselves to two places.
After turning down the Miami Dolphins yesterday, Jim Harbaugh has made it known he will make a decision between remaining at Stanford, and taking a deal with the San Francisco 49'ers. Our sources are telling Walker Sports that Jim Harbaugh is ready to sign a deal with the 49'ers and try his luck as an NFL head coach. While the details of the deal are not fully known we do know the deal will be good for five years.
Stanford boasters are doing their best to counter the deal and keep Harbaugh at the school, but that scenario is becoming increasingly unlikely. The final decision could be made as soon as tonight.