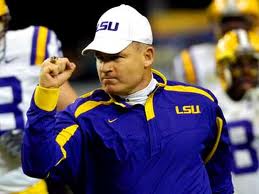 For the second time in a week, the Michigan Wolverines have been turned down by their top coaching candidate. This time the Wolverines were spurned by Les Miles of LSU. As recently as this morning it appeared that Les Miles was ready to accept the Michigan job citing he was a Michigan man at heart (we reported that earlier today). However, upon further review Miles decided to remain in his current position as LSU's head coach.
When asked about his decision Les Miles mentioned he was happy with his current situation at LSU. He enjoys the challenge of coaching in the SEC, and likes the recruiting opportunities that are available to him. Basically Les Miles realized he has a good thing going down in Baton Rouge, and trying to rebuild Michigan was simply too big of a task.
A bigger concern that is raised by all of this is what doe the Wolverines do now? They have now been turned down by two big name candidates, and the potential candidate pool is drying up quickly. Due to the fact that Michigan is insistent on hiring a Michigan man they truly are limiting their opportunities.