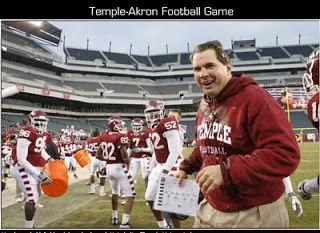 According to multiple reports close to the school an offer has been made to Temple football coach Al Golden from to fill the vacancy with the Miami Hurricanes.
Golden has spent the past five seasons calling the shots at Temple University where he turned the around the 1-11 program and made them bowl eligible each of the last two seasons. The Owls won 19 games over the last two seasons and went 8-4 this year, but were excluded from bowl play due to poor traveling numbers.
Before Golden arrived at Temple the Owls had been kicked out of the Big East due to poor performances on the field. Under Golden's guidance the school has worked their way back into the conference and are currently in the midst of one of their best era's in school history.
Golden met twice in person with Miami athletic director Kirby Hocutt, once in New York and then in Philadelphia, during the interview process. Marc Trestman, the coach of the two-time defending CFL Grey Cup champion Montreal Alouettes, also received strong consideration for the job, as did UConn coach Randy Edsall and Houston coach Kevin Sumlin. Jon Gruden was also considered but the Hurricanes were unable to lure him out of the booth.
Many readers of this blog will remember Al Golden from his time roaming the sidelines at the University of Virginia where he was a defensive coordinator under Al Groh.
While the official details on this deal have not been finalized, it appears to a be a locked deal. The official announcement will be coming later this week with more details on the contract.