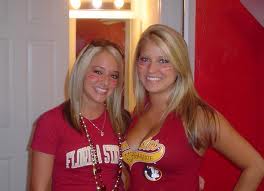 The college football season is rolling along and one thing is becoming apparent, no team wants stick around the top of the polls for more than a week. From the early outlook of things, this week could yield more of the same results. However, we are not here to examine polls, we're here to pick winners, so let's get to the task at hand.
Florida State. -3.5 v. North Carolina State:
We have ourselves another Thursday night ACC game, if history is any indicator, these things are blowouts. Nonetheless the Florida State Seminoles are on the road to take on a surprisingly good NC. State team. Tom O'Brien is finally experiencing the type of success he was expected to bring to Raleigh four years ago. However, despite some success early in the season the Wolfpack have struggled against quality opponents in the ACC, and that's pretty sad. They blew a game at home to Virginia Tech, and most would agree that FSU is a better all around team than the Hokies. Florida State is finally trying to put their mark on the expanded ACC for the first time in a decade, and a quality win on national television on Thursday night will do exactly that.
Winner: Florida State covers the 3.5 points, plus take the over to hedge your bet.
Georgia -3 v. Florida:
I don't care what they want to call it, this will always be the World's Largest Outdoor Cocktail Party, and I will always remember my times walking along the river and enjoying a few adult beverages. While this is always an intense game, this year it takes on a few added wrinkles. Georgia started the season off as poorly as a team could. But they have rebounded nicely and are poised to take control of a weak SEC East. In Gainsville life in the PTE (Post Tebow Era) has been harsh to say the least. Florida is in the midst of their worst stretch in the Urban Meyer era, and things will not get easier this weekend. Georgia's Mark Richt is out for revenge, and he knows a win in this rivalry game will help all those fans forget the 1-4 start.
Winner: Georgia picks up the win and covers the 3 points. Missouri +7.5 v. Nebraska:
Missouri has shot into the national spotlight after knocking off the top ranked Sooners last weekend, but there is no time to celebrate for the Tigers. Saturday they take on a suddenly re-energized Nebraska Cornhuskers team, that lit up Oklahoma State last week. This game has the makings of a Big 12 classic, and with a trip to the Big 12 Championship on the line things could get ugly. This is not your traditional Nebraska team they want to spread things out and use that to open holes for quarterback Taylor Martinez. Those spread formations could prove to be Nebraska's downfall this weekend. Missouri is very strong upfront both on offense and defense. They can plug gaps and generate pressure on defense. On the offensive side of the ball the Tigers did not give up a sack, or a QB knockdown against Oklahoma last week, so that tells you how stout they are against the pass rush.
Winner: Nebraska is the better team and will win the game, but at 7.5 points, that's just a bit too much for the Cornhuskers to cover. Missouri covers the 7.5
Oregon -7 v. USC:
BCS spoiler alert. Oregon finds themselves atop many of the polls and judging from recent history, that is not a safe place to be. The Ducks have an offense that is playing at a blistering pace. They reached the over (60 points) last weekend by themselves. It's tough to imagine a team running and scoring at the pace Oregon is right now. That being said, the Ducks have played the 102nd ranked schedule in the country. Outside of a disappointing Stanford team, Oregon has be untested in 2010. Going on the road to Southern Cal will prove to be a new experience for Chip Kelly's bunch. USC had nothing to play for this year due to suspensions. After dropping two games earlier in the season, the Trojans are left to play the role of spoiler, and who better to upset than the team that embarrassed them last season. Matt Barkley is playing at an exceptional pace, and if he was on a BCS eligible team he would receive the national run he actually deserves.
Winner: I love my Ducks, and I think they can hold on to win the game, but it's going to be a close one. USC will stick around and cover the 7 points. The over for this game has jumped to 70, but it could still be fun to play.Auburn -7 v. Ole Miss:
Cam Newton is the best player in college football, if you cannot agree to that then you're on the wrong website. Newton is simply playing at another level right now and as a result the Auburn Tigers could finally make a run toward the National Championship game. While Ole Miss has shown some flashes this year, they are a team in transition. If Auburn can avoid the letdown after winning a huge home game last weekend they should be in good shape.
Winner: Auburn wins the game and covers the 7 points.

Wild Card, Baylor +7 v. Texas:
There's no real reason to put this game on the board, other than I wanted to highlight the fact that the Baylor Bears are going to a bowl game, and that's nothing something you see everything. Even more impressive is the Bears have an outside chance to knock off Texas. Remember this is the same Baylor team that was a few pen strokes away from being left without a conference during the realignment debacle this summer.
Winner: Texas wins the game, but why not make a moderate bet and Baylor can keep it interesting and cover the 7.