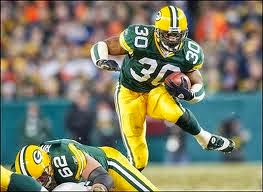 It a bit of surprising news, retired NFL running back Ahman Green is set to join the USA Sevens team in training at the Olympic Center in Chulo Vista California. USA Rugby CEO Nigel Melville confirmed the news via his Twitter account earlier today.
Green reached out to Melville and USA rugby via Twitter a few weeks ago, but many did not take the conversation seriously. However, those in charge at USA Rugby did their due diligence and contacted the former NFL star, and talked him into giving Rugby Sevens a try.
While details about the deal are still a bit murky, it appears that Green will at least get a tryout with the current USA Sevens program and will spend the next few weeks training and working with the guys currently in camp. It is unclear exactly how much, if any, previous rugby experience Green currently has, so he will have to manage a steep learning curve to catch up to the rest of the guys in camp. Also working against Green will be his age, at the time of this post Green is 36 years old, and will be 39 by the time the 2016 Summer Olympics roll around, should he make the squad.
What Ahman Green does bring to the table is a professional pedigree. He was an integral part of two national championships while playing for Nebraska. During his time in the NFL Green became the Green Bay Packers all-time leading rusher. In total he played 12 seasons in the NFL for three teams.
We've seen football converts come to rugby in the past, and there's been mixed results. The high end would be Carlin Isles, who is currently learning his craft at the Olympic Training Center. Also Dan Lyle was a football convert. The list of failures is too long to name, but recently Maurice Clarrett made an attempt at rugby, but was not able to stand up to the rigors of the training and schedule.
What do you think? Can Ahman Green make the ultimate comeback?