Over the weekend, the college basketball world was introduced to Florida Gulf Coast University. The 15 seed who took the NCAA tournament by storm and fought their way into the Sweet 16. Though it's only Tuesday, every major sporting news outlet has been saturated with stories about FGCU has risen above adversity to become media darling. The story of head coach Andy Enfield leaving high stakes business to coach small time college basketball is the stuff of legend.
However, anytime a team receives this much media exposure in such a short amount of time and they are not used to it, there is bound to be trouble. And it appears that the FGCU Men's basketball fan site has stepped in it big time.
From Twitter:
@
FGCU_Basketball
: Is it Gaytor or Gator?
#
FGCU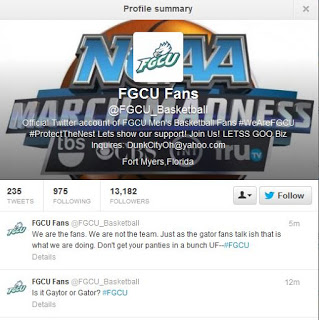 That is legit, although it appears the Tweet has been deleted. I can handle the fans changing "F-Florida" during a live pep-rally yesterday. Similar chants have been heard all over college stadiums for years now, and it's tough to control an entire student body. But this is an official account that is basking in the glory of the men's basketball team, and has made one of the dumbest comments possible. Especially when you consider the timing of it. Today March 26, is DOMA day. The Supreme Court is just a few miles from the Walker Sports headquarters debating Gay rights and marriage. Half of Facebook has transformed their profiles into online protest banners for equality, and yet some idiot student finds it acceptable to mouth out with a careless remark, that serves no purpose other than showing stupidity.
Monday on the Dan Patrick Show, DP pondered how long would it take before we became sick of Florida Gulf Coast University. Most thought it would be because of the immaturity and inexperience of the team. Those are things I can laugh off, but this is something different entirely.
Shame.