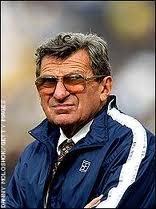 There's some shocking news coming out of Penn State today. It appears the NCAA has come to an agreement with the school to reduce the sanctions currently in place against the football program.
Beginning next year, the university will have five additional scholarships. The number will increase until the university reaches 25 offered scholarships in 2015-16 and 85 total scholarships in 2016-17.
"Today's announcement by the NCAA is tremendous news," coach Bill O'Brien said in a statement. "As a staff, we are especially pleased for our players, who have proven themselves to be a resilient a group of young men. Penn State has long been known for graduating its student-athletes and providing them with a world-class education. The scholarship additions will allow us to provide more student-athletes with a tremendous opportunity to earn that degree and play football for Penn State."
However the post season ban will remain in place. The same is for the 111 Joe Paterno vacated wins, and the $60 million fine.
"While there is more work to be done, Penn State has clearly demonstrated its commitment to restoring integrity in its athletics program," said George Mitchell, the independent Athletics Integrity Monitor for Penn State and former U.S. Senator. "The university has substantially completed the initial implementation of all the Freeh Report recommendations and its obligations to the Athletics Integrity Agreement, so relief from the scholarship reductions is warranted and deserved."
This is great news for the football program. More than fines, or a postseason suspension, loss of scholarships hurts a program the most. Look no further than USC who are just now feeling the full affects of the scholarships they have loss over the years.
The news is a bit shocking when you think about the fact that Penn State was able to hide despicable acts on their campus for nearly 20 years, but nine months of good behavior is enough to lesson their sentence.
It's funny how brief the NCAA's memory can be, when they want it to.