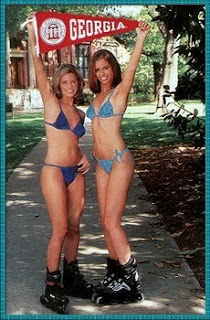 It's hard to believe that we are already at week 9 of the college football season, but here we are. There are a slew of big time games this week and there's plenty to be excited about. That being said, let's get right to the point and pick some games.
Georgia Bulldogs vs. Florida Gators:
I don't care what the mayor of Jacksonville wants to call this game, it will always be the World's Largest Outdoor Cocktail Party to me. There's a lot on the line with this game as well. The Gators have not played well at all this season. Many times it appears that the Florida players are more content to watch Tim Teabow work his magic and hope that he can pull out a miracle. This makes them primed for an upset. Georgia is in the midst of a terrible year, but knocking off Florida in this boarder war would change the fortunes of the season.
The spread is a massive 14 1/2 points favoring Florida. I have to jump all over this one. Florida has been shaky and they have been unable to truly dominate anyone. Georgia most likely won't win this game but they can cover.
Here's another nugget for you as well, the team entering the Cocktail Party coming off a bye week has won outright 13 out of the last 14 times.
Winner Georgia:
Texas Longhorns vs. Oklahoma State Cowboys:
The Longhorns are on a mission, the end goal is the BCS Championship game. I also warned everyone a few weeks back that the Oklahoma State Cowboys could rebuild their season and they have done that. The true shame of this game is that Oklahoma State wide out Dez Bryant is being forced to miss this game thanks to a horrible NCAA ruling.
The spread favors Texas by 9 1/2 points. Oklahoma State is better than what most people give them credit for. That being said, they have routinely struggled in the big games. That trend will continue. Texas wins the game and covers the spread.
Winner: Texas
USC Trojans vs. Oregon Ducks:
Remember when the Oregon Ducks blew the season opener to Boise State and people were jumping off the Ducks bandwagon as fast as they could. Now it appears the Ducks have righted the ship and they find themselves ranked tenth in the country. Unfortunately for Oregon, they have to play the USC Trojans. I don't belive the Trojans are a powerhouse team but they are a very good one. More importantly USC has gotten their blown game out of the way for the season.
The spread on this game is amazingly close with USC being favored by just 3 points. I love this spread. Take USC to pick up the win and cover the spread with ease. Oregon just is not ready to play at that level.
Winner: USC