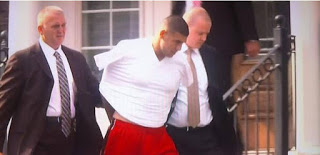 UPDATE
Aaron Hernandez has been charged with 6 felony counts including murder of Odin Lloyd. With this groundbreaking news the case against Aaron Hernandez has gone to an all new level.
After being taken into custody this morning by police, the New England Patriots have released Aaron Hernandez from his contract.
Hernandez was arrested on a state police warrant and was being booked at the North Attleborough police station, state police said on the agency's Twitter account. State police said they won't discuss the charge against Hernandez until it's presented in Attleboro District Court later Wednesday.
It is believed the charge against Hernandez is an obstruction of justice charge or a tampering with evidence charge. This comes after it's alleged Hernandez provided police with a phone he destroyed, and he attempted to erase security footage from his home.
This news comes from the New England Patriots official Twitter account.
A bit of history of how we came to this place.
A law-enforcement official told FOX 25 in Boston last week that Hernandez left a Boston bar in a car with Lloyd and two other men in the hours that preceded the body's discovery. Sources told FOX 25 that Lloyd sent a text that referenced Hernandez. Three men returned to Hernandez's home, but Lloyd was not one of them, the source told FOX 25. It's unclear what transpired in the time between.
ABC reported that video surveillance from Hernandez's neighborhood shows Hernandez with Lloyd and two others only hours before Lloyd's body was found.
Sports Illustrated reported that the original link between Hernandez and the case was a rented Chevrolet Suburban with Rhode Island plates that police had been searching for.