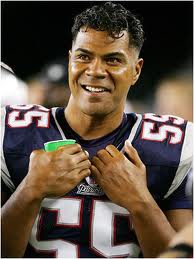 It is with heavy hearts that we have to report, former NFL linebacker Junior Seau is dead according to reports coming from TMZ and other sources. While initial details are still vague it is believed Seau committed suicide, in his home in California.
Junior Seau was an All-Pro linebaker who made his name with the San Diego Chargers even taking them to a Super Bowl. He ended his career as a member of the New England Patriots. After football Seau ventured into some broadcast work, where he showed great promise.
In 2010 Seau crashed his car into a ravine after being charged with assault against his girlfriend. There was talk this may have been a suicide attempt, but Seau refuted those claims stating he simply fell asleep behind the wheel.
Seau is survived by his three children.