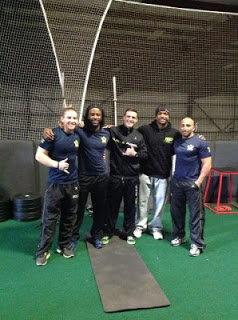 Former Ohio State and Denver Bronco running back Maurice Clarett has checked in as the latest member of the Tiger Rugby Academy in Columbus Ohio, and he may be taking his first steps to becoming an Olympian for the United States.
For those who are unaware, Tiger Rugby Academy, Tiger Rugby Academy is located in Columbus Ohio and Belmont California. The group has the goal to develop world class athletes for the US Men's National Sevens team and they are an official Olympic Development partner with USA Rugby.
Rugby in the sevens version will be included in the 2016 Olympic games, and several athletes from non traditional rugby backgrounds are looking to make dreams come through via the USA Sevens program. Recent international superstar Carlin Isles joined the USA Sevens team this summer. Isles was in San Diego training as a 100 meter sprinter and ran a personal best time that would have placed third in the Summer Olympics in London should he have qualified. Since transitioning to sevens, Carlin became an instant hit, showing off his speed and agility.
Maurice Clarett is looking to follow in those footsteps. Sources, have told us at Walker Sports, that Clarett already completed his first set of workouts at the Tiger Academy and his fitness was high. In addition he has maintained a high level of footwork, and is picking up on the game quickly.
If Maurice Clarett cna make it back to the top of his athletic form which we say during his Freshman season at Ohio State, it would be nothing short of amazing. Clarett was a monster on the field, but he was sidetracked by distractions off the field. While it is still a long way to go before 2016, if he were to find his way to wearing an USA jersey in Rio, it would be one of the great redemption stories in all of sports.