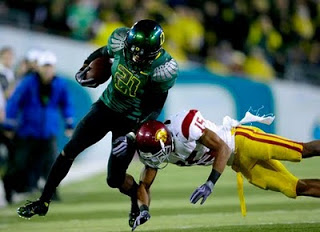 1) Alabama Crimson Tide: Nick Saban's group looked great on Saturday. When you play a good team and you beat them soundly, it says a lot about how well your team is clicking. If history is an indicator Alabama is primed for another national title run.
2) Ohio State Buckeyes: I'm very curious to see how this team navigates the Big 10. There's a lot of good teams on their schedule and no one will give them an easy out.
3) Boise State Broncos: Some polls have the Broncos dropping to fourth. No one here can justify dropping a team who went out and won 59-0 on Saturday. If Oregon is as good as we think they are they will have their time and their say about playing for a national championship.
4) Oregon Ducks: Great win on Saturday night. Oregon is scary good, and because of the Alabama game on Saturday night, no enough of America has seen how good the Ducks are.
5) Nebraska Cornhuskers: It looks like we could be in for a flashback to the old days with Nebraska and Oklahoma playing for the Big 12 Championship.
6) TCU Horned Frogs: Everyone has forgotten about this mid-major team, but they are good. Perhaps the Horned Frogs need to paint their field purple to get some attention.
7) Oklahoma Sooners: Texas was no match for the Sooners, but that's not much of a surprise. It's good to see that rivalry finally swing back in their direction.
8) Utah Utes: Watching the Utes, I can't wait till this team gets to the Pac 10.
9) Arizona Wildcats: It's hard to believe that the Wildcats are legit. It'll be interesting to see how their record looks once the Pac 10 season is over.
10) Auburn Tigers: It's still hard to believe that Auburn is this good. I'm still not sold they are a real contender.
11) LSU Tigers: The Tigers are lucky they only dropped one place in the poll. It took a penalty flag to save them from complete disaster against Tennessee.
12) Arkansas Razorbacks: This is a perfect example of if you lose early you can still hold your place in the poll.
13) Florida Gators: Saturday night was not the Gators best moment in the national spotlight. It's going to take some time to rebuild in the post Tebow era.
14) Iowa Hawkeyes: They destroyed a bad Penn State team, but that's not saying anything.
15) Miami Hurricanes: Are the Hurricanes really that good? Or are they simply feasting on a bad ACC?
16) South Carolina Gamecocks: The SEC is weak, the Gamecocks can make a run for a December trip to Atlanta, and then who knows.
17) Michigan State Spartans: Maybe, just maybe this team is for real. That was a great win on Saturday over a talented Wisconsin team.
18) Wisconsin Badgers: Talk about a team that let down a nation, or at least the Walker Sports gambling nation. After Saturday's results, the Badgers look like your typical Wisconsin team.
19) Michigan Wolverines: It's tough to be sold on this team. Sure Denard Robinson is the best player in the country, but that doesn't mean the Wolverines are a good team.
20) Stanford Cardinals: Now that was a reality check Saturday night. This is still a good Stanford team, and with the Wild West that is the Pac 10, they can still factor into the Pac 10 Championship race.
21) Air Force: Still hanging around. That triple offense attack, just confuses opposing defenses and they don't know what to do.
22) Nevada: I love the way this team runs the ball, and brings the ground game back to prime time college football.
23) Missouri Tigers: Can the Tigers really challenge Nebraska for the Big 12 North?
24) Florida State: Beating up on a horrible Virginia team does not mean that FSU is good, but they are much improved from last year's bunch.
25) Northwestern: I know this is strange to me as well.