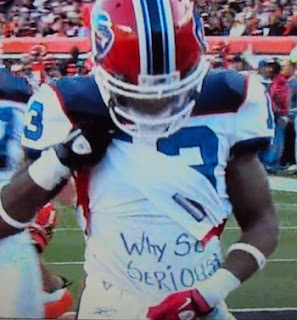 NFL head man Roger Goodell has been a one man wrecking crew when it comes to levying fines, and taking the celebrations and fun out of the NFL, and there is little doubt he will take another step today to insure no one has any fun anywhere near a football field.
Sunday evening, the lowly Buffalo Bills took on the disappointing Cincinnati Bengals. What ended up taking place in Paul Brown stadium was a very exciting football game that saw the Bills pick up just their second win of the season via a comeback nonetheless. However, the entire comeback may not have been possible if not for the outlandish actions of one Buffalo receiver, and now the league is ready to punish him for sparking the comeback.
Bills receiver Steven Johnson has had a decent year. He's perked up for a few big games this season, but due to poor quarterback play, it has been a difficult year for the wide out. On Sunday the third year receiver decided he was going to have some fun, at the Bengals expense.
Cincinnati's dynamic duo Chad Ocho Cinco and Terrell Owens like to call themselves Batman & Robin. This inspired Bufallo's Steven Johnson to take a page from Batman's most notorious villain, the Joker. Hidden under Johnson's jersey was a shirt with the phrase "Why so serious?" written on it. An homage to the line made famous by the late Heath Ledger in the most recent Batman movie.
After scoring his first TD on the day Johnson lifted his jersey to reveal the message written on his shirt. At the time the Bills were down 10 points. Steven Johnson would go on to score two more touchdowns and finish the day with eight receptions and 137 yards. The Bills won the game, I dare say none of this would have been possible without Johnson sparking the Bills with his simple message scrawled across his chest.
And now how will Steve Johnson be repaid for saving the game? Mr. Goodell is sure to fine Johnson for excessive celebration. A shame. I remember when the game was fun, for the players and for the fans. Steve Johnson sparked his teammates and brought some drama to the field. That is good for football. Please let the players put the fun back in the NFL