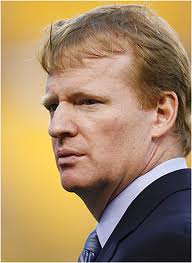 With the Super Bowl just around the corner, the NFL is poised to face an even bigger issue in the looming labor stoppage. While it appears that NFL owners and the Players Union are moving farther away from each other an a potential agreement, members on both side are preparing for the inevitable. In addition we are seeing plenty of posturing by leaders on both sides of the labor line.
Perhaps no one has taken a bigger step in political posturing than NFL Commissioner Roger Goodell who announced earlier today that he would take a drastic pay cut if a labor stoppage were to happen. How much of a pay cut is Goodell willing to take? The NFL Commissioner said he will cut his salary to $1. That's a pretty big step down from the $10 million a year Goodell is accustomed to earning after bonuses. In a memo to his staff Roger Goodell also told his staff that Chief Negotiator Jeff Pash would do the same.
"Let me emphasize that we are fully committed to doing everything possible to reach a new collective bargaining agreement without any disruption to our business," Goodell said. "The entire senior leadership team stands with me in its commitment to resolving the CBA issues with the player's union.
While this is a nice gesture, it's hard to believe it is anything more than that. At the end of the day, the income is still coming in for the NFL. Goodell's $10 million contract is also guranteed, so no matter what he made all his money and was able to save it before the labor stoppage begins. If Goodell wanted to prove a point he should take the over $9 million he is forfeiting, and donate it to the workers and the assistant coaches who are being put out of work due to the labor stoppage. In the end this is a decent PR move, that has no legitimate substance behind it.