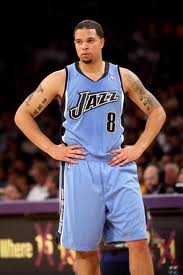 All weekend long we heard how the New Jersey Nets had a backup plan should they fail to get Carmelo Anthony from the Denver Nuggets. Today, we learned the Nets not only had a backup plan, they had a damn good one.
According to multiple sources around the NBA the New Jersey Nets are close to finalizing a multi-team deal that has Utah Jazz point guard Deron Williams at the center of it. The deal is rumored to be finalized Wednesday evening after it clears through the league front office, and will involve the Nets, Jazz, and Golden State Warriors.
It appears the deal will send Deron Williams to the New Jersey Nets and in return the Jazz will receive Derrick Favors, Devin Harris, and two first round draft picks. It is still unclear how exactly the Golden State Warriors will factor in on the deal.
Perhaps one of the most interesting factors in this trade is that Deron Williams was just at the center of a controversy in Utah that saw the retirement of veteran coach Jerry Sloan. It's tough to believe the Utah Jazz may now lose their Hall of Fame coach and their All Star point guard all in one month.