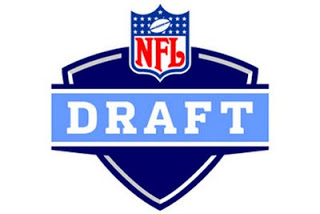 The first round of the NFL Draft is in the books, and for those of us who thought this year's draft would be on the quiet side, boy were we mistaken. The surprises began early with Tennessee going outside of the box and picking up former University of Washington quarterback Jake Locker, and they continued with the Redskins actually making a smart draft day move and trading down. In addition to the trades and surprises, history was made with 12 defensive linemen taken in the first round. There's a lot to talk about, so let's dive right into things and recap the first round.
1) Carolina Panthers- Cam Newton, QB Auburn:
Panthers owner Jerry Richardson signed off on paying the massive signing bonus that Cam Newton will earn next season, so the first hurdle is covered. However, what the Panthers are actually with this pick is still unknown. Cam Newton has a ton of upside, being that he's a physical specimen. He also has a lot of drawbacks and he's still a raw talent that will require some time before he is molded into a consistent NFL starter.
2) Denver Broncos- Von Miller, OLB Texas A&M:
Most had Marcell Dareus slated for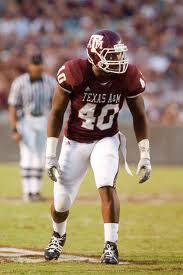 this pick, but in the end the Broncos felt Miller was a better pick. New head coach Jon Fox is bring a 4-3 scheme to Denver, and Von Miller has the ability to play strong side linebacker or defensive end. No matter where he plays, Miller will provide an instant upgrade for the Broncos struggling defense.
3) Buffalo Bills- Marcell Dareus, DE Alabama:
This was a smart draft pickup that unfortunately head coach Chan Gaily may not be around to see the rewards. In an ideal world the Bills would haev taken a chance on Cam Newton, but with Newton off the board, there was not a quarterback available worthy of the third overall pick. Marcell Dareus gives the the Bills a legitimate pass rush option, something the Bills defense needs after being ranked at the bottom of the league in passing and rushing defense.
4) Cincinnati Bengals- A.J. Green, WR Georgia:
The Bengals have a major need for a play making receiver. It appears that Ocho Cinco is out, and while Jordan Shipley is turning into a reliable option, he is not a big play threat. Now the question becomes who will throw these young receivers the ball?
5) Arizona Cardinals- Patrick Peterson, CB LSU:
Far too great of a talent to pass. Peterson was the best player available in the draft, and the Cardinals would have been foolish to pass on him in favor of a quarterback. Chances are Peterson will make the move to safety in the near future, that will not stop his play making ability in the secondary.
6) (t)Atlanta Falcons- Julio Jones, WR, Alabama:
The Falcons traded the farm to get Julio Jones, but it's a good move for a team that is ready to win now. Julio Jones will pull attention away from Roddy White, and he has the size to be a reliable possession receiver across the middle.
7) San Francisco 49'ers- Aldon Smith, DE Missouri:
The 9'ers were hoping Peterson would fall to them, but instead they had to move and steal Aldon Smith who the Houston Texans were eying. Though he only has limited playing time in college football, Smith made a big impact picking up 17 sacks.
8) Tennessee T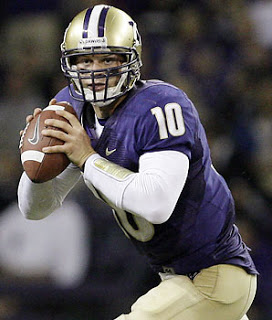 itans- Jake Locker, QB Washington:
This was the first surprise of the draft. We had Jake Locker going mid to even late second round. That was the general conciseness about Locker who saw his draft stock plummet after a sub par season. However, the Titans saw something in the Washington gunslinger. It's a bit strange that the Titans gave up on one running quarterback with a questionable arm, just to draft another one.
9) Dallas Cowboys- Tyron Smith, OT USC:
Solid pick from Dallas. It's been nearly three decades since the Cowboys took a linemen in the first round and they could not have picked a better time to change that trend. The Dallas offensive line has been on the downside of their collective careers for some time now, and finally the youth movement can begin.
10) (t) Jacksonville Jaguars- Blaine Gabbert, QB Missouri:
Originally this pick belonged to the Redskins, but they made a smart move by trading down. The Jaguars missed out on taking Tim Tebow last year, but they have struck the jackpot with this pick. Now the question is how long before we get our first look at Blaine Gabbert as a starting NFL quarterback.
11) Houston Texans- J.J. Watt, DE Wisconsin:
Smith they wanted, Watt they got. It's no secret the Texans are in desperate need of some upgrades on defense. Brian Cushing was a great start, but he needs some help.
12) Minnesota Vikings- Christian Ponder,
QB FSU:
This was the second quarterback surprise in the draft. I've been high on Ponder since watching his tape from the Senior Bowl. However, being drafted in the first half of the first round still comes as a shock. What the Vikings get is a quarterback who has taken a lot of snaps and played in some big game situations. He could be the long term solutions the Vikings have desired for so long.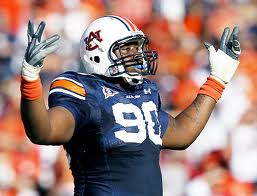 13)
Detroit Lions- Nick Fairley, DT Auburn:
Take a look at the defensive line the Lions are building. Fairley and Suh side by side will strike fear into the hearts of any opposing offense. It's strange to say this, but the Lions are moving in the right direction and making smart draft decisions.
14) St. Louis Rams- Robert Quinn, DE UNC:
The Rams were very high on Quinn. Some scouts have him as the highest ranked edge rusher available. There's going to be some rush that Quinn needs to brush off as a result of sitting out a season, but that should not affect his play.
15) Miami Dolphins- Mike Pouncey, C Florida:
Once again the Dolphins are looking to solidify offensive line. There was some thought they would go after a quarterback with this pick, but they will most likely save that move for a later round.
16) (t) Washington Redskins- Ryan Kerrigan:
The Redskins traded down to get this pick, and some would argue they should have made another trade and moved down once again. In the end, the biggest reward from this pick will be the additional second round pick. In Ryan Kerrigan the Skins get a reliable play maker, who should take some pressure off Brian Orakpo.
17) New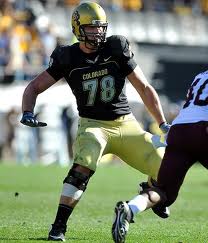 Patriots- Nate Solder, OT Colorado:
Solder is a bit of a project. Despite his impressive size, he struggled in the strength test at the Combine and at the Senior Bowl. However, if there is a team that can build him into a consistent player it is the Patriots and their coaching staff.
18) San D
iego Chargers- Corey Liguet, DT Illinois:
A bit of a head scratcher here. Liguet is the typical 4-3 tackle, and the Chargers run a 3-4. It's not the same, just ask Albert Hayneswerth. Chances are the chargers had Liguet at the top of their best available board, and just went with it.
19) New York Giants- Prince Amukamara, CB Nebraska:
Amukamara fell a lot farther than he expected. And while the Giants were eying help for their lines, they could not pass on such a talented prospect as Prince.
20) Tampa Bay Bucs- Adrian Clayborn, DE California:
There's a lot of questions surrounding Clayborn thanks to a condition known as Erb's Palsy which caused nerve damage in Clayboryn's right shoulder and arm. As a result the Iowa DE saw his numbers drop in 2010. Nonetheless the most important aspect of this pick is we all know that everyone is afraid of Da'Quan Bowers and his gimpy knee.
21) (t) Cleveland Browns- Phil Taylor, DT Baylor:
Taylor's job is simple, replace Shaun Rogers. Granted that's a big hole in the middle, but Taylor is a big man and up to the challenge.
22) Indianapolis Colts- Anthony Castonza, OT BC:
The Colts have not had an effect rushing attack in a long time, and bringing in Castonza helps Indianapolis in rebuilding an offensive line that has been battered by injuries. Hopefully the youth movement will bring some continuity to a non existent rushing attack.
23) Ph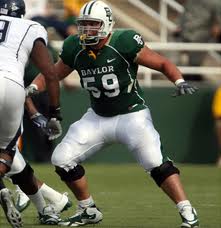 iladelphia Eagles- Danny Watkins, OG Baylor:
Watkins is a fighter and he's tough as they come, that much should appeal to Eagles fans. Danny Watkins was a late comer to football and he only has limited playing experience. If he can adapt to the NFL game, the Eagles have have found a long time starter.
24) New Orleans Saints- Cameron Jordans, DE California:
A solid athlete who has the ability to play end or outside linebacker in the Saints 4-3 scheme. The Saints did a good job of picking up a reliable play maker who will help out what was once a strong defense.
25) Seattle Seahawks- James Carpenter, OG Alabama:
The Seahawks surprised everyone with they way they played last year, and Carpenter should fit right in with this team. His size and versatility have caused him to be a bit underrated but he has the ability to play wherever he wants on the offensive line, a skill that will be useful.
26) (t) Kansas City Chiefs- Jonathon Baldwin, WR Pittsburgh:
The Chiefs are thing at the wide out position, and Baldwin should be able to walk right onto the field and start. We had Baldwin as the third ranked receiver available, so this was a good value pick.
27) Baltimore Ravens- Jimmy Smith, CB Colorado:
Most shied away from Smith due to his off the field issues. The Ravens have a history of taking in troubled players and turning them into excellent contributors. If Jimmy Smith is willing to listen to Ozzie Newsome and Rey Lewis he will be just fine.
28) (t) New Orleans Saints- Mark Ingram, RB Alabama:
Reggie Bush said it be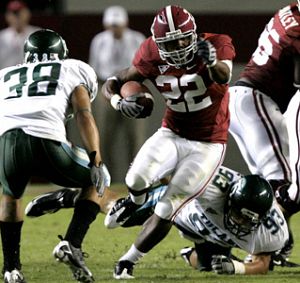 st last night on his Twitter page "It's been fun New Orleans." With Mark Ingram coming to town its official Reggie Bush is out as the Saints feature back. Many have compared Ingram to Emitt Smith, and the Saints are hoping the scouts are accurate.
29) Chicago Bears- Gabe Carimi, OT Wiscon:
This actually worked out how the Bears hoped it would. They had pegged Carimi as their guy but the Bears did not expect him to fall. Gabe Carimi is a big boy who knows how to lock things down on the line.
30) New York Jets- Muhammad Wilkerson, DE Temple:
For as good as the Jets defense was last season, they lacked serious depth on the defensive line. Wilkerson actually has the skill to compete for a starting job next season. His athleticism will make him a play maker and not your typical space eater in the middle.
31) Pittsburgh Steelers- Cameron Heyward, DE OSU:
Many thought Heyward would fall into the second round, but the Steelers felt safe in making the reach for the defensive end. Chances are Heyward will not start right away which means he has time to adapt and grow into the role of NFL player.
32) Green Bay Packers- Derek Sherrod, OT Mississippi St.
: The Packers need something to protect Aaron Rogers, especially with the defensive lines they will face in the NFC North. Sherrod is a solid tackle, but he has not played in a traditional offense, and as a result he has not had to pass block in the traditional sense.