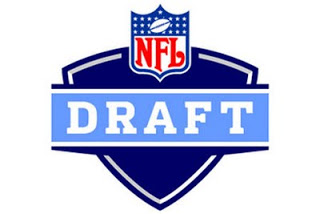 The NFL lockout is in full swing, but in many ways the business that is the NFL continues to march on. The Washington Redskins are holding player only workouts here in Northern Virginia, and most importantly teams are still moving forward with their draft day plans. Surprisingly there is still no clear cut No. 1 pick in this year's draft and as a result there has been plenty of movement on most peoples draft boards, and Walker Sports is no exception. Check out our latest NFL Mock Draft.
1) Carolina Panthers: Cam Newton, QB Auburn:
The Auburn quarterback has plenty of questions marks, but he has performed well in his team workouts. The Panthers need a face for their franchises and if a new rookie agreement is in place Newton could be a bargain.
2) Denver Broncos: Patrick Peterson, DB LSU:
There's a lot to fix with the Denver Broncos, but an instant upgrade on the defensive side of the ball is essential. While the Broncos could use an upgrade in the front seven to help boost their pass rush, Patrick Paterson is simply too talented a player to pass on. He's my personal favorite player available in the NFL draft, and he has all the tools to make an immediate impact. Peterson is big enough to move to safety, but has the speed to stay on the field during passing situations.
3) Buffalo Bills: Marcell Dareus, DT , Alabama:
The Bills rush defense was horrid last season, giving up 169 yards per game on average. Dareus is listed as a defensive tackle but he actually played end most of the time in Saban's version of the 3-4. He has the ability to make a big impact upfront and slow down some of the speedy backs in the AFC.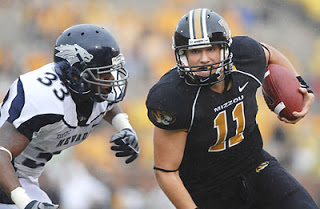 4) Cincinnati Bengals: Blaine Gabbert, QB Missouri:
The Bengals have a mess at the quarterback position due to the Carson Palmer situation. One thing we know for sure, Cincinnati will have to make a move to secure that \0position in the long term. Blaine Gabbert has fallen in a lot of mock drafts, but I still like his upside. He has the mechanics of a drop back passer like Drew Bledsoe but he has the mobility of a modern QB.
5) Arizona Cardinals: Von Miller, LB Texas A&M:
After Patrick Peterson Von Miller is the closest thing to a sure thing available in this year's draft. Everyone knows about Miller's exploits at the Senior Bowl and at the NFL Combine, he wowed and amazed at every drill. The Arizona Cardinals have an aging linebacking core that simply could not get the job done last season. Von Miller will be able to provide a DeMarcus Ware like impact and give the Cardinals a serious pas rushing threat.
6) Cleveland Browns: A.J. Green, WR Georgia:
It's very possible the Browns could use this pick on a defensive player, but the possibility of being able to create their own big three is too great to pass on. A.J. Green has a big body and is not afraid to throw it around on the field. He has a proven track record of making big lays in big games. Combine his play making ability with with Peyton Hillis continuing to grow as a running back and Colt growing into the starting role and you have the foundation for a great offense.
7) San Francisco 49'ers: Prince Amukamara CB, Nebraska:
The 49'ers have more picks than any team in the NFL in this year's draft, and that is a luxury they plan to take full advantage of. At the top of the list of priorities for San Francisco is a new quarterback, but with Gabbert and Newton gone, it's simply too much of a risk to take a QB with the 7th pick, they can wait till the 2nd round to fill that need. In Prince Amukamara the 49'ers find another piece to their defensive puzzle which is quickly coming together as an elite unit.
8) Tennessee Titans: Ni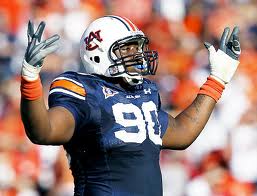 ck Fairley, DT Auburn:
It wasn't long ago that the Titians had a devastating defense that was anchored by a nasty defensive tackle. That tackles name was Albert Haynesworth. In Nick Fairley the Titans get back to their roots as a defense first team. Fairly has a mean streak in him and he has the ability to take over a game at the line of scrimmage. Look no further than his performance in the BCS Championship game for proof.
9) Dallas Cowboys: Troy Smith OT, USC:
Drafting an offensive tackle in the first round is not something the Dallas Cowboys are known for, but they may be forced into in this year's draft. Troy Smith is a solid enough prospect, though he is far from being a finished product at this state in his career. In an ideal world the Cowboys would draft a corner to sure up their defensive backfield, and for that reason don't be surprised if Dallas makes an attempt to move up in the draft to take take Peterson. However, if they cannot move, drafting Troy Smith allows them to fill the glaring holes on their offensive line.
10) Washington Redskins: Julio Jones, WR Alabama:
For a number of reasons, the Redskins are a mess, they only have two pics in the first four rounds of the draft, they have no true starting running back or N0. 1 receiver, and their starting QB most likely wants out after being benched last season. A smart move for Washington would be to trade down and try to accumulate as many picks as possible. However, if that's not possible they will need another plan of action, and drafting Julio Jones is a step in the right direction. The big wide out from Alabama made plays his entire career in an offense that was not built for receivers. He should fit right in with the Redskins.
11) Houston Texans: Cameron Jordan, DE California:
Yet again the Texans enter the draft seemingly only needing one piece to help them take the next step and becoming an elite team. Once again it was defense that let the Texans down. Cameron Jordan is a hybrid defensive end who can play in the 4-3 or the 3-4 which is highly important for a Houston team that is transitioning between schemes.
12) Minnesota Vikings: Da'Quan Bowers, DE Clemson:
The Vikings need a quarterback to replace Bret Favre, but with no QB available to spend the 10th pick, Minnesota will turn to defense. When the Vikings were at their best the defensive line carried the team. Last season that units production dropped and the team suffered. Adding Bowers to the mix gives the Vikings a young athlete to the line who can compliment Jared Allen on the other side.
13) Detroit Lions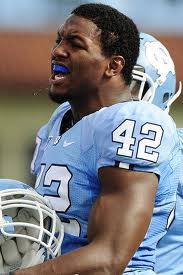 : Robert Quinn, DE North Carolina:
The Lions have taken major steps in the right direction over the past few years, and picking up Quinn is another step. Quinn can be a stand up linebacker in the 3-4 or he can be a traditional 4-3 end with his hand in the dirt.
14) St. Loui
s Rams: Corey Liguet, DT Illinois:
It's difficult to say exactly what the Rams need, (they'll take a receiver if one is available) but adding a defensive linemen can never hurt. Liguet was a one year starter who showed an amazing upside. He's an athletic pass rusher that will be a great asset to a quickly developing defensive line.
15) Miami Dolphins: Mike Pouncey, G/C Florida:
Mike's twin brother was a first round draft pick last year and anchored the Steelers offensive line. While Mike Pouncey is not that talented he is still a great pickup who the Dolphins can slot in as a starter for the next decade. Ideally Miami would like to get a quarterback, but it's too risky to go after Locker or one of the other prospects this high in the draft.
16) Jacksonville Jaguars: Ryan Kerrigan, DE
Purdue:
Stand up or hand in the dirt, Kerrigan is effective either way.
17) New England Patriots: Anthony Castonzo, OT Boston College:
You'll be seeing a lot of the Patriots in this year's draft since they have four picks in the first three rounds. It's also very difficult to predict exactly what New England will do with their picks. However, an upgrade on the offensive line is needed, and Anthony Castonzo provides a four year starter who is the type of heady player the Patriots adore.
18) San Diego Chargers: J.J. Watt, DE Wisconsin:
The Chargers need help on the defensive line. If J.J. Watt is still available they will jump all over him. However, slipping all the way to 18th may be a stretch for the talented D-end.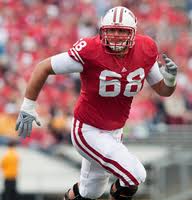 19) New York Giants: Dave
Carimi, OT Wisconsin:
Eli has been the bright point of the Giants offense in recent years, but when New York is at their best they are a power running team. Dave Carimi played on a Wisconsin line that racked up yards all year long.
20) Tampa Bay Bucs: Akeem Myers, OLB UCLA:
The Bucs are a team that is quickly improving, however they are still struggling at the linebacker position. Myers is not the most polished pass rusher available in the draft, but at this point, he may be the best option on the board.
21) Kansas City Chiefs: Aldon Smith, DE/OLB Missouri:
This could be the surprise of the draft, and if the Chiefs connect with Aldon Smith it could be a home run. Smith has all the potential to be one of the elite pass rushers in the league. However, he has not played a lot of football, and missing all of last season with a broken leg only increases the numbers of questions around him.
22) Indianapolis Colts: Nate Solder, OT Colorado:
It's been a long time since the Colts have had a reliable running game, anything they can do to rebuild the offensive line would be of help. Plus keeping Peyton Manning on his feet and off his back is always a good idea.
23) Philadelpia Eagles: Jimmy Smith, CB Colorado:
There are lots of questions surrounding Jimmy Smith's character, but Andy Reid is never one to shy away from a challenged player. If The Eagles can channel Smith's energy he will be a great lock down corner.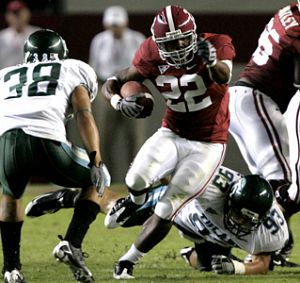 24) New Orleans Saints: Mark Ingram, RB Alabama:
A lot of people have Ingram slipping out of the first round, but I believe he is simply too talented to fall that far. The Saints have gotten by using a running back by committee approach, but they could use a workhorse back who can take the majority of the carries.
25) Seattle Seashawks: Ryan Mallet, QB Arkansas:
One thing I know for sure, three quarterbacks will be taken in the first round of the NFL draft. One thing I do not know, is who that third quarterback will be. If teams are smart and ignore the smear campaign they will take Ryan Mallet. The Seahawks can likely get one maybe two more years out of Matt Hasselbeck, but they need to start planning for the future.
26) Baltimore Ravens: Derek Sherrod, OT, Mississippi St:
This pick actually functions as two draft picks for the Ravens. Sherrod should be able to step in and play left tackle from day one. This will allow Baltimore to move Oher to the right side where he is more comfortable and effective.
27) Atlanta Falcons: Adrian Clayborn, DE Iowa:
The Falcons need help on the defensive side of the ball. The Packers torched them in the playoffs, and an upgrade at any defensive position would be a massive help. Clayborn's numbers dropped a bit last season but he was still an all Big 10 performer, and he can make an impact at the next level.
28) New England Patriots: Cameron Heyward, DE Ohio State:
The Patriots love versatile ends, and they will find a way to move Heyward around to maximize his potential. The Pats have a young defense that will only get better.
29) Chicago Bears: Marvin Austin, DE/OLB North Carolina:
The Bears defense is not as strong as they were a few years ago. It's time to start rebuilding and bring the fear back into Monsters of the Midway.
30) New York Jets: Justin Houston, OLB Georgia:
The Jets are still in Super Bowl mode and bringing in the freakishly athletic Houston will give them another pass rush option from the edge.
31) Pittsburgh Steelers: Aaron Williams, DB Texas:
It's difficult to say the Steelers have a weakness on defense, but outside of Troy roaming around as a safety there are plenty of holes to fill in the secondary. Aaron Williams can play corner, safety or be a nickel back so he can fill a bunch of roles.
32) Green Bay Packers: Muhammad Wilkerson, DT Temple:
The big boy from Temple can fill a hole at the five technique that is being created thanks to Cullen Jenkins becoming a free agent. The Packers rode their defensive line to the Super Bowl last year, and they can do it once again with the help of Wilkerson.