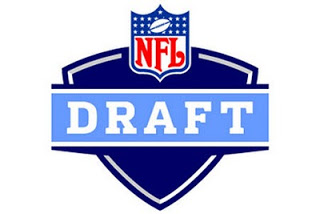 With all the film from the 2011 NFL Combine evaluated, and the early pro-days of some elite NFL prospects underway, we decided it was a good time to publish our latest edition of our NFL Mock Draft. Due to their recent performances, a few players have found themselves on the move on our draft board. For the most part this is a good thing, but there are few exceptions. Remember this draft board is far from being finalized, and you can expect updates as we move closer to the actual NFL Draft.
1) Carolina Panthers: Da'Quan Bowers DE, Clemson:
Unlike many recent years, the No. 1 pick in the NFL Draft is not a lock, and as a result the Carolina Panthers have a lot of options (and needs) at this position. A few mock drafts have Cam Newton going to the Panthers as the first pick, but I simply did not see enough out of him in his pro-day or at the Combine to justify him as the top pick in the draft. In Da'Quan Bowers, the Panthers go the safe route, and get a guy who is a play maker. Bowers wants to be the next Julius Peppers, and he has all the tools to achieve that goal. Missouri's Blaine Gabbert could make a late push for this spot, but I'll have to watch him throw at his pro-day before pumping him up the board.
2) Denver Broncos: Nick Fairley DT Auburn:
Why? The Broncos were last in the NFL last season with 23 sacks. John Fox is a defensive minded coach, who likes to build around his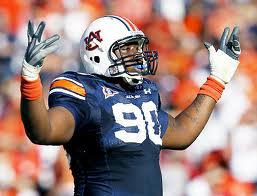 defensive line. Fox has already gone on record noting he is happy with the current defensive ends on his roster. In Nick Fairley the Broncos get a big defensive tackle who is athletic enough to make plays in the backfield, and he has a bit of a mean streak in him, that will help give an identity to that unit. Another option for the Broncos with this pick is Alabama's Marcell Dareus, who tested out slightly better than Fairley when it comes to physical attributes. However due to the attitude Fairley possess, I prefer him as the better option.
3) Buffalo Bills: Cam Newton QB Auburn:
The Bills have a ton of needs, and oddly enough quarterback is not at the top of that list. However, history has shown us that what Bills owner Buddy Nix wants, Buddy Nix gets. Last year he went on about running a pass catching RB, and he reached and signed C.J. Spiller. This year, Nix has already gone on record about his desire to have a franchise quality quarterback. Combine that with head coach Chan Gailey's love for athletic and mobile quarterbacks and you have a match made in heaven with Cam Newton. We all know what Cam can do with his legs, and with his size he should be able to handle the wear'n'tear of the NFL. The biggest question surround the Heisman Trophy winner is can he throw the ball with enough accuracy to be competitive at the NFL level? Even after his pro-day, Newton left plenty of questions unanswered. Other possible picks at this spot are LB Von Miller, DB Patrick Paterson, or DT Marcell Dareus.
4) Cincinnati Bengals: Blaine Gabbert QB Missouri:
If Carson Palmer holds true to his promise of retiring if the Bengals fail to trade him, then Cincinnati has no choice but to draft a quarterback, seeing that most likely two of the QB's currently on their roster will be gone come September (Jordan Palmer, Carson's brother, is currently the 3'rd QB). Should Cam Newton fall, the Bengals will likely jump at him, but they will not blink twice at the thought of signing Gabbert if they need to. Gabbert will have a steep learning curve in the NFL, but he has the talent to compete at this level. Other possible picks include A.J. Green should the Bengals be able to workout their quarterback situation pre-draft.
5) Arizona Cardinals: Von Miller LB Texas A&M:
Von is an amazing athlete, who was made to play rush linebacker in a 3-4 scheme. Miller lit it up at the Combine showing he has the raw athletic skills that make him one of a kind. Von Miller has improved his skill set vastly over the past season transform from a pure pass rusher to an all around defender. With Joey Porter on his way out in Arizona, Miller actually provides an upgrade at linebacker from what the Cardinals currently have. Other possible choices at this position is CB Patrick Paterson, he's arguably too good of a player to pass on.
6) Cleveland Br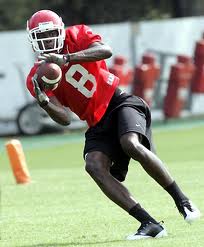 owns: A.J. Green WR Georgia:
The Browns have named Colt McCoy as their starting QB for 2011, now they need to get him some reliable targets. A.J. Green proved he is fast enough, 4.48 sec 30, and big enough 6'4 211 lbs, to play in the NFL. Green has all the tools to be a No.1 receiver and when paired with a guy like McCoy, the Browns could finally be on the right rebuilding track.
7) San Francisco 49'ers: Patrick Paterson CB, LSU:
It's not often I agree with ESPN's Mel Kiper, but when it comes to Patrick Paterson I do. Paterson is the best overall player available in this year's draft. However, due to the position he plays, it's difficult for a lot of teams to perceive taking him with a high draft pick. The 49'ers most likely would prefer to pass on Paterson as well if it was up to them. While they would be happy to have a player of his caliber, what San Fran really needs is a quarterback. If the teams ahead of them continue to show a strong interest in Cam Newton and Blaine Gabbert, do not be surprised if the 49'ers make an attempt to trade up in the draft to pick one of those quarterbacks. However, if a trade is not possible, there is no doubt Patrick Paterson is the best player available, and there is no way San Fran will pass.
8) Tennessee Titians: Marcell Dareus DT Alabama:
The Titians are entering the post Jeff Fisher era, but many of the things we've come accustomed to will remain the same. Ever since Albert Haynesworth left for Washington the Titans have had a massive hole on their defensive line. Marcell Dareus comes from a 3-4 scheme, but he has all the skill to become a terror in Tennessee's 4-3 scheme.
9) Dallas Cowboys: Prince Amukamara CB Nebraska:
Sure the Cowboys need help on the offensive line, but anyone who saw Dallas get torched by David Garrad, Rex Grossman, and Shaun Hill respectively know the Cowboys need a serious upgrade in their defensive backs. Prince Amukamara is the best pure corner available in this year's draft. Patrick Peterson grades out about him due to his athletic abilities, but when it comes to technical skill Amukamara is the best. It's possible the Cowboys could trade down in an effort to pick up an offensive linemen, but Prince Amukamara is a play maker, and that's right up Jerry Jones' alley.
10) Washington Redskins: Julio Jones WR Alabama:
The NFL Draft could get very interesting come the 10th pick, because it's difficult to gauge what the Washington Redskins will do. It's pretty obvious Washington needs to make a move to address their quarterback situation as the McNabb/Shannahan partnership is already over. However, with Cam Netwon and Blaine Gabbert off the board, logic tells you the Redskins will not reach for a quarterback at this position. In addition, the Redskins do not have enough draft picks stockpiled to make any serious trades to move up in the draft. With no serious quarterback options on the board, Washington will address one of their obvious glaring needs, receiver. Julio Jones, is a big bodied receiver who made a ton of plays, in an offense that is not designed for success at the wide out position. Most importantly Jones provides a big target for whoever will slot in at quarterback for the Redskins.
11) Houston Texans: Robert Quinn DE/OLB UNC:
Last year this time there was a serious chance that Robert Quinn could have become the No.1 overall prospect entering this year's draft. However, thanks to a horrible ruling by the NCAA Quinn was forced to sit out all of last season. The result was too many people forgot about Quinn's potential, and there's simply not enough film on the guy. What we do know is he can flat out play when he's allowed on the field. Quinn showed that in the senior bowl, and in his test at the NFL Combine. The Texans are moving to a 3-4 scheme, and with Cushing and company moving to the inside LB position, Quinn gives new defensive coordinator Wade Philips a great option as a speed rush OLB.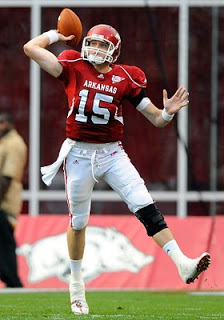 12) Minnesota Vikings: Ryan Mallett QB Arkansas:
Who would have thought drafting a potential franchise caliber quarterback in the first round of the NFL Draft would be considered a quiet off season. However, that is life for the Vikings in the post Bret Favre era. Mallett raised plenty of eyebrows with the way he handled the media at the Combine. There are plenty of questions about Mallett's maturity, but it appears he is doing his best to answer those since the Combine.
13) Detroit Lions: Tyron Smith OT USC:
The Detroit Lions have made major strides in the past few seasons, and they have all the tools to take a big step in the right direction in 2011. However, if the Lions want to become contenders they will need to do with with Matt Stafford, that means keeping the young quarterback healthy, and upright in the pocket. Tyron Smith had an impressive combine, and is shooting up peoples draft boards. If drafted by Detroit he could be the long term fix the Lions desperately need to anchor a struggling offensive line.
14) St. Louis Rams: Corey Liuget DT Illinois:
The Rams would love to get a receiver to help the quickly developing Sam Bradford, but it's unlikely they want a wideout bad enough to trade up for one. If the Rams cannot get an offensive weapon, they will look to beef up their defensive line which is young and coming together nicely. Liuget has great leverage, and has proved to have a great motor.
15) Miami Dolphins: Mark Ingram RB Miami:
Ronnie Brown and Ricky Williams are both scheduled to be free agents this offseason, and while being serviceable backs neither one would be considered an elite back. Mark Ingram won the Heisman as a sophomore in college, then suffered through an injury riddled junior year. However, he came on strong in the Capital One Bowl and he was great the the NFL Combine. Many compare Ingram to Emmitt Smith, and that is very accurate when considering his running style. Mark Ingram is a throwback to the the running backs of Smiths generation where backs served as every down players. Ingram would be an instant upgrade in the Dolphins backfield.
16) Jacksonville Jaguars: Cameron Jordan DE Cal:
The Jaguars defense made huge strides last season, and they will look to continue that trend in 2011. Another trend they will stick with is selecting a first round draft pick from Cal. Cameron Jordan is an athletic D-end who has the speed to rush the passer on the edge, but he also has enough strength to stay inside and become a strong run blocker. Other possibilities with this pick are DE/OLB Ryan Kerrigan.
17) New England Patriorts: Ryan Kerrigan OLB/DE Purdue:
Should he be available, the Patriots will be all over Kerrigan. He's the type of player Bill Billichick loves. Thanks to a solid workout Kerrigan proved he is talented enough to be an end in the 4-3 or an OLB in the 3-4 which is important since the Patriots swap between the two schemes. Kerrigan is a four year player, a three year starter and an academic All American. This means he's seen and played a lot of football, and he has the ability to learn, all of these are qualities the Patriots love in their defensive players.
18) San Diego Chargers: Aldon Smith OLB Missouri:
The Chargers need an upgrade at the linebacker position and Smith gives them an instant burst of energy. Smith only played two seasons at Missouri and missed time due to a broken leg, but that has not affect his overall athleticism. He showed growth in his time at Missouri and he still has the ability to learn more.
19) New York Giants: Mike Pouncey C/G Florida:
Mike's brother went in the first round of last year's draft and turned into a Pro-Bowl center for the Steelers, the Giants are hoping they will be as lucky by drafting Mike Pouncey. The big center is able to play either guard spot or move down to center. He has great footwork and is able to get to the second level and make blocks down field. Pouncey will be a big asset in recharging a once powerful New York rushing attack.
20) Tam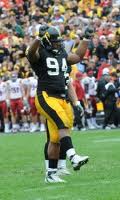 pa Bay Bucs: Adrian Clayborn DE Iowa:
The Bucs are the youngest team in the NFL, and they don't see that as a problem. Tampa Bay has a young defensive front, but they get after the ball and they make plays. However, one area the Bucs lacked in last season was sacks. The team leader Stylez G. White only had 4.5. Adrian Clayborn had the potential to be a top 10 draft pick, but thanks to a horrible year both on and off the field, he has fallen. Under the Tampa Bay coaches Adrian will get the guidance he needs, and provide the outside pass rush the Bucs need.
21) Kansas City Chiefs: Justin Houston OLB Georgia:
The Chiefs have found success when drafting defensive players from the SEC, and in Justin Houston they should find another winning pick. Mike Vrabel has played well for Kansas City but his time as a full time player in the NFL is coming to an end. Justin Houston is the perfect fit to step in and fill the impending void.
22) Indianapolis Colts: Anthony Castonzo OT Boston College:
The Colts need to upgrade on their offensive line. Peyton Manning is still the best quarterback in the NFL, but he needs time to make plays in the pocket. Castonzo is arguably the best tackle available in the year's draft and he's a perfect fit for the Colts offense.
23) Philadelphia Eagles: Gabe Carimi OT Wisconsin:
The Eagles gave up 53 sacks last season, and that's with the elusive Mike Vick at quarterback. It's time for Philadelphia to upgrade their offensive line. Carimi loves to run block and playing in the Big 10 last season he had the opportunity to go against some of the best defensive linemen in the country. It is likely Carimi will replace Winston Justice who was benched for poor play during the Eagles playoff game.
24) New Orleans Saints: Muhammad Wilkerson DT Temple:
Yes, that's right a Temple player is going to be drafted in the first round. Thanks to great player during his career, and solid workouts Wilkerson finds his draft stock rising. It's possible he could be gone by the 24th pick.
25) Seattle Seahawks: Jimmy Smith CB Colorado:
Currently the Seahawks secondary consist of Earl Thomas and a group of serviceable vets. If they want to hold on to their slim advantage in the NFC West, they will need some serious upgrades Some look at Jimmy Smith's stats and they are not impressed, however, I'd argue he suffered from Primetime syndrome. Smith's stats are lackluster this season because no one was willing to throw in his direction. That's the ultimate compliment for a defensive back.
26) Baltimore Ravens: Derek Sherrod OT Mississippi St:
The Ravens have done a lot to upgrade their offense during the past few offseason's however, if you saw them throughout the season it was obvious their rushing game has suffered due to turnover and injuries on the offensive line. Derek Sherrod is a reliable run blocker who should be able to slot in and replace the oft injured Jared Gaither.
27) Atlanta Falcons: Aaron Williams CB Texas:
Williams has the size of a safety but the speed and footwork of a CB. This is great for the Falcons as they will be able to use him in a variety of ways. No matter how they decide to use the young player, one thing is for certain he will upgrade the Atlanta secondary.
28) New England Patriots: Nate Solder OT Colorado:
The Patriots are the only team in this year's draft with the luxury of two first round draft picks. This gives them the flexibility to go in a number of different directions with this pick. Should Nate be available he may be too good a prospect to pass on. He has a massive frame, and his physical attributes tested out of the world at the Combine. The Patriots have the freedom to draft Solder and allow him time to grow into his body and his role as an NFL player.
29) Chicago Bears: Stephen Pea DT Oregon State:
With the release of Harris, the Bears are suddenly in need of a 3-technique tackle. Pea is a solid contributor who saw his draft stock jump thanks to his record setting 49 reps on the bench press.
30) New York Jets: Akeem Ayers OLB UCLA:
The Jets could go a lot of directions with this pick, despite being so close to the Super Bowl yet again, the Jets have plenty of glaring holes. The biggest hole is on the defensive line, but at the 30th pick it's hard to believe there will be a quality player available to take. If Ayers is available he could be the man to help bolster a lacking D-line despite not actually playing on it. Ayers is a great physical specimen who is aggressive and capable of putting his hand in the dirt and being a 4-3 end.
31) Pittsburgh Steelers: Danny Watkins G Baylor:
Big Ben has made a living scrambling and making plays by moving the pocket but the Steelers would like to protect their QB from taking so many hits, and upgrade their offensive line. Watkins is a versatile linemen who can play several positions and on either side.
32) Green Bay Packers: Torrey Smith WR Maryland:
The Packers won the Super Bowl on the arm of Aaron Rogers, and the play of his receivers. However, going into 2011 only Greg Jennings is a guarantee. In Torrey Smith the Packers get a solid speedester option on the outside which is something they lack no matter who comes back.