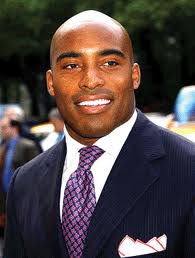 According to his agent Mark Lepselter, former Giants running back Tiki Barber has filed papers to un-retire from the NFL.
Tiki Barber retired in 2006, to take a job with the NBC Today, and a few other NBC related news outlets. In 2009, Barber lost those jobs due to an off the air encounter with an employee.
"After seeing my brother still have fun at our age, it reignited the fire," Tiki Barber said, according to FOXSports.com. "I'm really looking forward to the challenge of seeing if I can get back to the level of where I was. I started working out again recently. It kind of shocked myself. I still had a lot of the strength I had before. I'm really looking forward to making a return."
One distinct difference between Tiki playing at 35 and Ronde playing at 35 is Ronde never retired. He has been a top contributor in the NFL. It's a lot easier to maintain your condition at a high level, rather than trying to start it up all over again. NFL comebacks are far from easy, especially at the running back position.