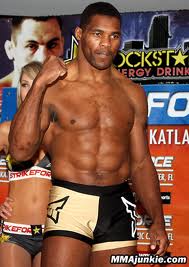 Herschel Walker was a devastating force when he played at the University of Georgia, and he was able to string together a successful NFL career. For those who remember Herschel Walker was one of the great all time running backs when he was in college. Since retiring from football Walker has taken on a number of different athletic endeavors with varying degrees of success.
In addition to football Walker found success as a US sprinter where he barely missed out on the Olympic rely team when he ran a 10.22 second 100 meter time. Hershel would get the opportunity to live his Olympic dream when he made his way to the 1992 Winter Olympics as part of a two-man bobsled team that finished seventh overall.
Most recently Hershel Walker is making headlines as an MMA fighter. Currently Walker is 1-0 in his MMA career with one knockout to his credit. Lucky for Walker he earned a 5th degree black belt in Tae Kw0n Do before entering the MMA arena.
Now at the age of 48, Hershel Walker is ready to come home. That's right just a few days before his second career MMA bout, Herschel Walker is talking about the possibility of an NFL comeback. I guess watching Bret Favre at 41 years old has inspired Walker to believe he has one more season left in him. For what it's worth Walker has gone on record saying he ran a 4.4 second 40 yard dash within the last week.
While this is probably just talk, Walker has proven capable of performing astonishing athletic feats even at a late age. Maybe this can be another example.