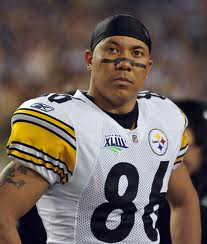 According to reports coming from TMZ (got to love the new sports media), Pittsburgh Steeler and Super Bowl MVP Hines Ward was pulled over by LAPD early this morning, and handcuffed by police who were on the scene.
The "Dancing With the Stars" contested was pulled over at 2AM while riding in a Honda Civic. It should be noted that Ward was not driving the vehicle at the time.
According to a police insider, officers pulled the car over after noticing that the plates on the vehicle came back as being reported stolen. Reports say that police drew their weapons and pulled both Hines Ward and the female driver from the car and handcuffed them.
Upon further review, the female driver of the car explained SHE was the one who reported the car stolen after an incident with a valet. However, she failed to notify police she regained possession of the car.
Once the woman's story was verified, the officers let both Ward and the lady go. According to officers on the scene both Ward and the lady involved were very cooperative with officers.