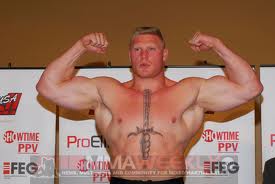 Brock Lesnar made his return to the UFC's octagon, and after a brief fight against Alistar Overeem, Brock Lesnar's comeback has come to an end.
After suffering a TKO loss to Alistar Overeem at UFC 141, former UFC Heavyweight Champion Brock Lesnar retired from the sport of MMA following. Brock has battled diverticulitis and had a foot of colon removed in a major surgery earlier this year. Lesnar was in great shape, but many questioned how his body would hold up after the major surgery.
In a match that was quite short, Overeem attacked Brock's body and landed multiple knees and kicks to the body of Lesnar.