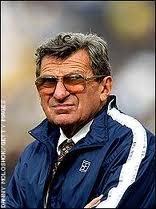 After four days of the worse PR spin since Hurricane Katrina, it looks as though Penn State is finally trying to make the right moves in handling the recent sex scandal that came to light. Thanks to Mark Viera and Pete Thamel of the New York Times, we now have reports that Penn State is making moves to prepare for the departure of Joe Paterno, thus ending the longest running coaching regime in college football.
The board of trustees has yet to announce when they will have Joe Paterno step down, but it is clear that he will not be around for another season in Happy Valley. The news of the sex scandal hit papers over the weekend, and has rocked the sporting world. Joe Paterno, the patriarch of the Penn State football and the man largely associated as the face of the university is now being offered up to take the fall for the terrible situations that took place under his watch.
Currently the Penn State board of trustees is still working through how to handle the details of releasing Joe Paterno, but it can be confirmed from two sources, that the school is ready to part ways with the long time head coach. Paterno would be the third member of the Penn State athletic depart fired in the wake of the current scandal. Paterno was scheduled to have his weekly press conference today, but that was canceled just moments before by school officials.