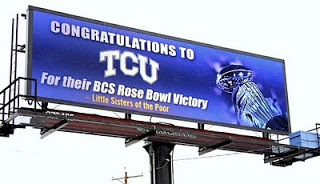 TCU made their way to the Rose Bowl and did the unthinkable when they knocked off Big 10 powerhouse Wisconsin. The victory gave the school their first victory in a BCS game, and it capped off a perfect season that will likely garner TCU a few first place votes in the final polls of the season. However, despite all the accomplishments of this year's TCU team the die hard fans still had one bit of unfinished business, and that had to do with the Ohio State Buckeyes in Columbus Ohio.
In November Ohio State President got all BCS busters stirred up when he proclaimed that Boise State and TCU could not compile a schedule impressive enough to warrant one of those programs playing for a national title. That statement got everyone into a ruckus, but it looks like TCU is ready to have the last laugh.
Wealthy TCU alum who are in the Columbus Ohio area, spent an estimated $80,000 to purchase billboards around the Ohio State campus. The billboards are purple and white, TCU school colors, and read "Congratulations to TCU for their BCS Bowl Victory. -Little Sisters of the Poor"
There is no question that due to the tag line and the location of these signs they are meant to be a direct jab at Ohio State and their president. There should be more of this in college football, rivalries and pranks like this is what makes college sports great.