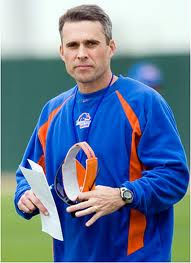 When Urban Meyer suddenly announced his retirement on Tuesday evening it did not take long for the rumor mill to begin churning out names for who would be his successor in Gainesville. One name that has consistently come up to replace Urban Meyer has been Chris Petersen of Boise State, and finally thanks to credible sources it appears that Perterso\en's name is moving to the top of the list of applicants.

According to close sources to Walker Sports, Chris Peterson has been in talks with the University of Florida about their vacant coaching position. It is still unclear if or when this meeting/interview will take place. But we can safely say the two sides have been in contact, and there is a mutual interest between Peterson and the Florida Gators.
Chris Petersen has built a powerhouse program in Boise State, and he was two missed field Goals away from his third undefeated regular season as head coach of the Broncos. Many are speculating that with the recent snubbing Boise State suffered, and the effective collapse of the Mountains West with BYU, Utah, and TCU leaving for BCS conferences that Chris Petersen may finally have had enough of the mid-major lifestyle.
There is no doubt that Chris Petersen can coach, and he employs many of the same formations and offensive strategies that are currently in place at Florida.

We will keep you up to date about this situation as details emerge.