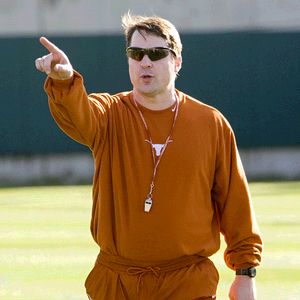 It did not take long for the Florida Gators to find their replacement for Urban Meyers who stepped down from his position earlier this week. The Florida Gators are turning to Will Muschamp to lead the Gators as the 23rd head coach in Florida Gators history.
Many will know Will Muschamp as the defensive coordinator for the Texas Longhorns where he has roamed the sidelines for the past few seasons. In 2008 Muschamp was tagged to be the coach-in-waiting to replace current Longhorns coach Mack Brown whenever he chooses to step down.
Instead of choosing to wait his time, Will Muschamp is taking the opportunity to return to his onetime hometown of Gainsville Florida.
"I have great memories watching SEC football with my father on Saturdays and playing football in the back yard with my two brothers right here in Gainesville." Will Muschamp
At 39 years old Muschamp is the second youngest coach in the SEC. The Gators went 7-5 this season which is a disappointment for a program that won two national titles in the last six years. The Gators are in the midst of a rebuilding process but there is no doubt they are in a better position than the Texas Longhorns are currently experiencing.
Current Florida head coach will end his tenure with the Gators after their bowl game in January. Meyer stepped down after six seasons in Gainsville citing health and family issues.