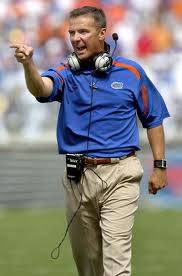 Breaking news coming from AOL sports today is report that University of Florida head coach Urban Meyer is stepping down from his position at the University of Florida.
For those who remember, Meyer stepped down at this time last season citing health issues. However, Meyer was only gone for a brief sabbatical and ultamently
returned to the sidelines.
This time it appears to be in stone that Meyer is not returning to the Gators for the 2011 campaign.

In regards to his retirement, Meyer's had the following to say;

"I have been a Division I football coach for the last 25 years and, during that time, my primary focus has been helping my teams win titles," said Meyer, who spent six years at Florida. "I have thoroughly enjoyed every minute of it, and I am a fierce competitor to my core. At this time in my life, however, I appreciate the sacrifices my 24/7 profession has demanded of me, and I know it is time to put my focus on my family and life away from the field. The decision to step down was a difficult one.

"But after spending more than two decades motivating and celebrating the young men I've been so proud to coach, I relish the opportunity to cheer for my three terrific kids as they compete in their own respective sports. I know how fortunate I am to be in a position to make this choice and to have a family that is as loving and supportive as my amazing wife and children have always been."



In an interesting twist Urban Meyer has already been linked to the now vacant coaching seat with the Denver Broncos.
More to come.