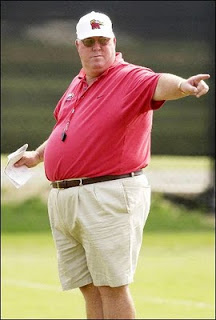 After listening to rumors circulate all weekend, Walker Sports can now confirm that University of Maryland and ACC football coach of the year Ralph Friedgen will be let go from his position with the University after the team plays in the Military Bowl in late December.
According to Chick Hernandez of CSN Washington, Friedgen has come to a deal with new AD Kevin Anderson that will allow the university to buy out Friedgen's deal at the end of this season. The University of Maryland athletic department has scheduled a press conference for Monday at 3 pm where they will announce their plans for the future.

It is well known that Ralph Friedgen butted heads with former Maryland athletic director Debbie Yow before she departed. The school looked into firing Friedgen last season after a two win campaign, but they were unable to afford the buyout clause in his contract. Now after going 8-4 the Friedge has been let go.
The University of Maryland has already put together a search committee that will help in finding a replacement for Friedgen. The number one candidate for the job is former Texas Tech head coach Mike Leach. While Leach has not spoken with Kevin Anderson the AD at this point, it is believed that a VIP associated with the Maryland athletic department has contacted Leach about his availability.