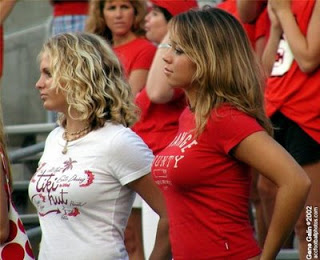 Another week, and we are making picks once again. The college football season is nearing it's conclusion and that's a shame because it's been a great year for us here at Walker Sports.
North Carolina -3 v. NC State:
UNC has put together an impressive year despite the off the field issues and suspensions. For NC State this has been a great year. The boys are primed for their first trip to the ACC Championship if they can get over the final few hurdles.
Winner: NC State wins in a slug fest and picks up the win and covers the three.
Arkansas -3 v. Mississippi St.: The year has not gone as the Razorbacks would have liked it. The same can be said for Ryan Mallet who has watched his draft stock slip due to his lack of performance in big games.
Winner: Expect Arkansas to come up with a big win, and the closest thing to marque win for the Razorbacks on the season.
Florida State -4 vs. Maryland:
The Terps are in the midst of a magical season. The Fridge has saved his job (for another year) and things finally seem to be moving in the right direction in College Park.
Winner: Florida State wins the game in a close one, while Maryland covers the spread.
Nebraska -3 v. Texas A&M:
Nebraska is the class of the Big 12 North, and while A&M is showing some life as of late, they simply do not have enough to stand toe to toe with the Cornhuskers.
Winner: Nebraska comes up with the big win to cover.