The New York Jets love controversy. All you have to do is watch them during the 'Hardknocks' series on HBO and you can tell the Jets thrive when there is controversy surrounding their team. Rex Ryan is as outspoken of a head coach in the NFL today, and in many ways the New York Jets have taken on their coaches personality.
One thing the Jets have not been up to this point in time is a cheater, but all of that changed on Sunday afternoon. In the late moments of a close game against the Miami Dolphins cameras caught a Jets employee tripping one of the Miami Dolphin players as he ran down the field to cover a punt.
While it was just a subtle movement, it is very obvious that one of the Jets employees went out of his way to get a piece of Miami corner back Nolan Carroll.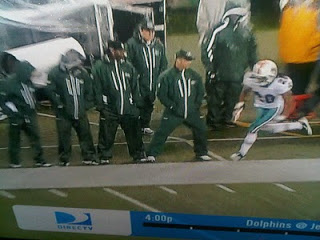 The guilty party was strength and conditioning coach Sal Alosi. There is no doubt the NFL will deal with situation and Alosi and possibly the Jets organization will dealt a severe punishment. Everyone knows there are plenty of gray areas in football and teams will do anything they can to gain an advantage, but there is such a thing as crossing the line, and that's exatly what Sal Alosi did. He should be banned from the sidelines and NFL forever.