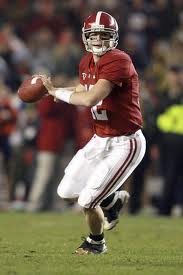 While it's widely known and understood that the NFL Combine measures all the tangibles a college football play has to offer, speed, strength etc. NFL scouts also use the combine to measure the intangibles as well. Teams rely on interviews and meetings to gain an insight into what a player is thinking and how they may react to an adverse situation. Another tool teams employ is the Wonderlic exam, an SAT like exam that measures intelligence and logic.
Typically when we talk about the Wonderlic, it is because a player has notched a low score. We all remember Vince Young's score of 16 (the test is out of 50), and all the eyebrows it raised. Last year Tim Teabow proved he was more than just muscle when he earned a 35 on the test. At this year's combine in Indy, once again a quarterback has wowed everyone with his score.
Alabama quarterback Greg McElroy never expected to blow any scouts away with his physical performance at the combine. However, people were curious to see how he would perform on the Wonderlic Test, and he blew it out the water. McElroy scored a 48 on the test, posting the highest score in over five years, and matching the highest score earned by a quarterback (here is a complete least of
QB Wonderlic scores
since 2006) The high score is twice the league average. It should come as no surprise that McElroy scored so well on the test, he was a multiple time Academic All-American, and he was a Rhodes Scholarship finalist last year.
The impressive score makes McElroy one of the smartest quarterbacks in history, in theory at list. His score matches Buffalo Bills quarterback Ryan Fitzpatrick. The only other starter in the NFL last year to post a score even close was Alex Smith who earned a 40. Rumor has it former Cincinnati Bengal's punter Pat McInally scored a 50.