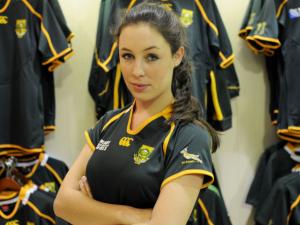 The 2011 Rugby World Cup is just around the corner, and all the teams participating are gearing up for the big event. As with every World Cup each team makes a special version of their jersey that the teams will wear throughout the tournament, and yesterday the South African Springboks showcases their new jerseys for the first time, and fans are not too happy.
The issue that has most fans throwing a fit is the location that rugby apparrell maker Cantebury has placed the trademark leaping Bok that the Springboks have become associated with. Traditionally the leaping bok has been placed on the chest of the South African jerseys over the players heart. However due to sponsorships and the Rugby World Cup logo, the bok have been moved to the left sleeve of the jersey.
Many longtime Springbok supporters are concerned that the bok emblem is close to becoming an endangered species on the South African jersey. The bok has been the symbol of pride and unity for a country that has a proud rugby tradition, and the possibility of the bok going away is simply too much for some to handle.
"It is just wrong to have the Springbok anywhere else but on the chest," -Khanyisa Dyubeni of Gugulethu