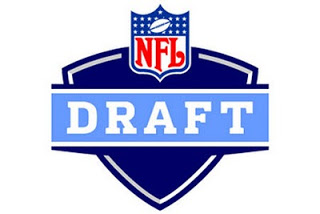 The 2011 NFL Combine is set to get underway today in Indianapolis, and for a few days all the NFL Labor talk will be forgotten while NFL Scouts pick over prospective players. The players will take the field over the weekend and depending on their performance their draft stock could jump or plummet. However, before we grade out combine performances let's take a moment and rank our top prospects by position. Today we are looking at the top quarterbacks heading into the combine. With Andrew Luck remaining in college for an extra season the race for the top quarterback available in the draft is wide open.
1) Cam Newton Auburn:
The Auburn quarterback is probably the most physically gifted quarterback available in draft, however that is not enough to give him the clear cut edge. However, Netwon does posses an amazing amount of skills that will make an impact at the next level. Cam has spent the weeks since the BCS Championship game refining his passing skills and taking every step possible to become a complete passer. Video of his progression has already emerged and from what we have seen, it looks good. Perhaps the biggest issue for Newton to overcome while in Indianapolis will be proving he is mentally stable and he is beyond payola scandal that nearly ended his college career prematurely. Judging from Newton's recent 'Icon'' comments it's very possible that Newton has a lot of maturing left to do.
2) Ryan Mallett Arkansas:
After Newton there is an steep drop off in terms of talent, but that does not mean every other quarterback available is a fraud. Coming into the 2010 college football season scouts were falling in love with Ryan Mallett, despite the fact that he mag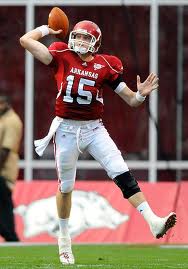 ically shrunk an inch (6'7 in 2010 and 6'6 in 2011), Mallett entered the season ready to show he had all the tools an NFL quarterback needs. Despite his large frame (read tall not big) Mallet can move around in the pocket and buy time to find his receivers, although he is nowhere near the the threat with his feet that many of the other QB's available. What separates Mallett from the other players available is his elite arm strength. There is no question he has the strongest arm available in this year's draft. Also aiding Mallett is his ability to play from under center. A lost art in college football, but still a stable in the NFL. This more than anything is what gave Ryan Mallett a slight edge of Missouri's Blaine Gabbert. The knock on Mallett is he makes costly mistakes in big games, often times trying to force the pass and thus committing turnovers. The Arkansas QB is also prone to breakdowns in his footwork mechanics which can lead to sloppy throws and costly turnovers as well. These are issues that can be worked on under the proper coaching staff, and if given the proper time to develop, they are problems that may never see the light of day on an NFL field.
3) Blaine Gabbert Missouri:
The Missouri Tiger's quarterback has shot up plenty of draft boards in recent weeks, and there are plenty of good reasons for this accent. Gabbert has shown a great mind for the game, and while at Missouri he was excellent in making pre-snap reads and finding his hot receivers. He has a reliable quick release that allows him to remain extremely accurate when making short to intermediate throws. Another gift Blaine Gabbert has are his legs, and his mobility. Coming from a background in the spread offense, Gabbert is able to break containment to extend plays, and he has the ability to turn it up the field and move the chains to keep drives alive. The biggest knock against Gabbert is his lack of experience with taking snaps from under the center. While in Indianapolis he will need to prove he has the footwork to move from under center and still maintain his high levels of accuracy.
4) Andrew Dalton TCU:
I'll admit, I love this kid, and truly believe he can make an impact in the NFL. Dalton was a four year starter at TCU, leading the Horned Frogs to consecutive BCS Games and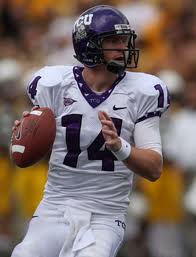 a victory in the 2011 Rose Bowl. The All Conference quarterback is a vocal leader who earns the respect of the players around him with his play on the field. Dalton's best asset is his accuracy when throwing the ball, he was tops in the NCAA each of the last two seasons. There are two major concerns about Andrew Dalton heading into the NFL Combine. The first is he played in a user friendly system at TCU. TCU's version of the spread offense moved Dalton around, shifting the pocket, narrowing the field and creating short passing lanes. At the next level, Dalton will not be able to rely on making those simple reads. The other concern about Andrew Dalton is his size. At 6'3 and 220 lbs, he is on the small side, and he lacks elite speed. If there is one thing we know, it's NFL teams love a quarterback with size. Look no farther than the top two quarterbacks on this list both Cam Newton and Ryan Mallet stand over 6'6. However, one thing we have learned in recent years is size is not everything when it comes to playing quarterback. Drew Brees has made a comfortable living for himself in the NFL. Before you get all cray I'm not saying Andrew Dalton is the next Drew Brees, but the two are similar in stature.
5) Christian Ponder Florida State:
The senior quarterback really helped himself with a solid performance at the Senior Bowl. Ponder experienced an up and down career while at Florida State, but he proved to be mentally tough, and more importantly he showed he has the physical skills to play in the NFL. Ponder may be the most NFL ready quarterback available in this year's draft. Thanks to the pro-style offense the Seminoles use, Ponder will not have to spend a lot of time relearning mechanics and going over basics. He is ready to run a West Coast offense as of right now. Add in an accurate arm and the ability to be an effective scrambler, and you have a dynamic threat. Before Christian Ponder can make a name for himself in the NFL he will need to work on a few things. First on the list of improvements is turnovers. In the past Ponder has shown problems making decisions when under pressure, and this had led to turnovers. Another issue he's had is locking into his receivers too soon and giving DB's the chance to jump routes. Obviously these are major concerns for scouts and Ponder will need to use this weekend in Indianapolis to prove he's moved beyond them.