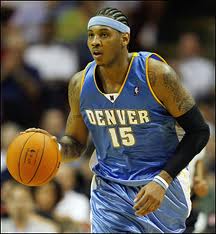 After months of speculation it appears the New Jersey Nets and the Denver Nuggets have reached a tentative deal that will send Carmelo Anthony to the New Jersey Nets as part of a multiplayer deal.
Currently the deal is pending that Anthony agrees to sign a three year $65 million contract extension, is is according to The Record.
If the deal stands the Net will get Carmelo Anthony, Chauncey Billups, Sheldon Williams, Melvin Ely, and Renaldo Balkman. In return the Nuggets will receive Devin Harris, Derrick Favors, Troy Murphy, Ben Uzoh and four first round draft picks.
The linchpin for this entire deal is Carmelo agreeing to sign the three year extension to stay with the Nets long term. Currently the two sides are scheduled to meet this weekend in LA during the All Star break and discuss the extension.
Nets owner Mikhail Prokhorov, general manager Billy King, CEO Brett Yormark and hip-hop star and part-owner Jay-Z are in Los Angeles and likely will meet with Anthony to try to sell him on the future of the franchise and the move to Brooklyn.
If Carmelo turns down the deal, the New York Knicks become the most likely team to step in as the front runner for Anthony. The Nets would be forced to either peruse a different player, or make a deal that could involve a third or even a fourth team.