First let me begin by thanking Cameron Smith and Yahoo Sports for writing this article and bringing this to our attention. It's not often that I get worked up about women competing in a men's sport. If they can make it, then they can make it. However, sometimes there are exceptions to the rule and this has to be one of them. While Joel Northrup cited his faith as the reason for him forfeiting his match, I do understand where he is coming from. There is no way I'd strap it up and wrestle against a girl in match there's nothing one can earn from that.

On Thursday, a girl won a match at the most historic high school state wrestling tournament in the country, but she did so in an even more unusual and controversial way than most had imagined possible.
According to the Cedar Rapids Metro Sports Report, Des Moines Register and Associated Press, among other outlets, Cassy Herkelman, one of two girls who qualified for the Iowa state wrestling tournament, won the opening match in her Class 3-A, 112-pound classification by forfeit when her scheduled opponent, Joel Northrup, officially reported and withdrew from the bout, earning a loss but ensuring he could continue to participate in later matches at the tournament.
Northrup, a sophomore at Lin-Mar (Iowa) High, cited his personal faith as the motivating force for his forfeit. The withdrawal ensures he can finish no higher than third at the tournament, which follows his third place finish in the 103-pound classification as a freshman.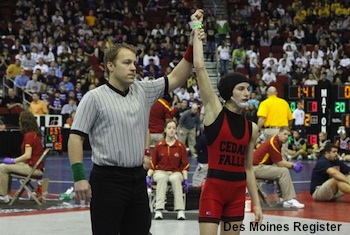 "I have a tremendous amount of respect for Cassy and Megan and their accomplishments," Northrup said in a statement given to the media following his official forfeit. "However, wrestling is a combat sport and it can get violent at times.
"As a matter of conscience and faith, I do not believe that it is appropriate for a boy to engage a girl in this manner. It is unfortunate that I have been placed in a situation not seen in most other high school sports in Iowa."
While girls have been allowed to compete as part of boys wrestling teams in Iowa for more than two decades, the 2010-11 season marks the first time that any girls have qualified for the state tournament. In addition to Herkelman, who you can see wrestling in the video above, fellow 112-pound wrestler Megan Black is also competing at the historic state tournament.
When Northrup's forfeit was made official, Herkelman, a freshman at Cedar Falls (Iowa) High was summoned to the middle of the mat and her arm was raised aloft, as you can see in the picture above, signifying the first official victory for a girl at the Iowa wrestling championships.
Though there was plenty of reason for disappointment, Herkelman's father, Bill Herkelman, told the Des Moines Register that the family harbored no ill will toward the Northrup whatsoever.
"My understanding is that they've got strict convictions [as a family], and I respect them," Bill Herkelman told the Register. "I don't have any ill will toward them and I don't think it's any kind of boycott about [Cassy Herkelman] being a girl."
In a subplot that could prove to be as intriguing as the initial forfeit, it's possible that Northrup -- who entered as the No. 5 seed in the 112-pound classification -- will be faced with an identical scenario later in the tournament. With Northrup working through the loser's bracket following the forfeit, he will be forced to face off with the losers of other matches later in the event.
If Herkelman or Black, who wrestlers for Ottumwa (Iowa) High, lose in the early rounds of the event, they would enter the same bracket that now features Northrup, meaning that there is an outside possibility that the Lin-Mar sophomore would be paired against a girl again.
Another forfeit would all but end Northrup's tournament altogether, though it would hardly generate the attention or notoriety that his initial forfeit gained, given its history making role in the annals of Iowa high school sports.