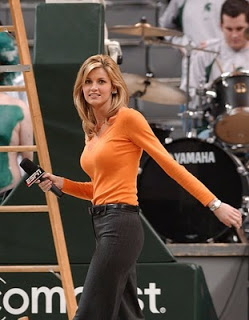 By now we all know Jay Cutler hurt his knee during Sunday's NFC Championship game, and he failed to play in the second half. The media firestorm was epic, former players, current players, media members all of them more than ready to rip Cutler and his actions, or lack there of on Sunday evening. What made Cutler's absence from Sunday's game worst was his obvious presence out on the social scene Sunday night after the game.
Jay Cutler was caught out at a popular Chicago steakhouse on Sunday night with his girlfriend. Many in the media where upset when they saw Cutler use the stairs to enter the private dinning room at Mastro's Steakhouse rather than using an elevator. Pretty impressive for a guy who had suffered a sprained MCL just hours earlier.
However, we are not here to talk about what Jay Cutler did after the game on Sunday, we are more concerned with who Jay Cutler was with Sunday evening. It appears that Cutler is currently dating former MTV reality star Kristin Cavallari. Yeah, we had no clue who that was either, but after doing a bit of research we figured she was worth a mention.