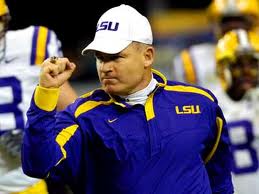 According to sources close to Walker Sports, it apparent that Les Miles is prepared to take the job as Michigan's head football coach. It is a known fact that Miles was in Michigan earlier this week and met with officials, and the two sides have come to terms that will bring the coach from LSU back to his roots in Michigan.
It is a well known fact that the Wolverines are looking for a "Michigan man" to fill their coaching vacancy, and Les Miles is exactly that. Currently Miles is under contract with LSU where he has been the coach for the past few seasons, and has compiled an impressive record. The read on Les Miles is the majority of Wolverine nation is split over the decision of bring Miles in as head coach. Plenty of people have questioned Mile's ability as a head coach. For what it's worth, there are plenty of LSU fans who would not be overly concerned should Miles chose to move north.
While the deal appears to be done (an announcement is expected later this week) we have been down this road before. Three years ago Les Miles was all but packed to move to Michigan and take on the head coaching job, and then things changed as Michigan opted to go with Rich Rodriguez.