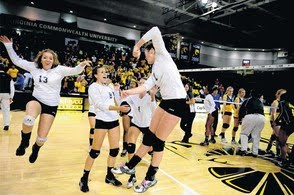 This is without a doubt a first for Walker Sports, but it is simply too good to pass up. A huge congratulations are in order for the Nelson County Lady Govs volleyball team as they brought home a state championship to Lovingston Virginia. The championship marked the first in school history for the Lady Govs, and the first for head coach Vicki Crawford after guiding the Governor's for the past 29 seasons.
The Lady Govs clinched the title by knocking off top seeded Mathew Blue Devils in three sets. Both teams entered the contest with identical regular season records (17-1) but thanks to a loss in the distract tournament earlier this season the Blue Devils held a slight edge over the Governor's.

However, the Lady Govs were not intimidated by the Blue Devils. They did reach the state semi-finals last year, and in 2010 they were determined to take the extra step. Many of the girls wore the slogan "Not this time." over their hearts as a reminder they had unfinished business to take care of. After losing the first game to the Blue Devils the Lady Govs rallied to win two consecutive games and bring home the title.
Why is this worthy enough to make the front page of Walker Sports? Because this writer hails from Nelson County Virginia, and thanks to the Lady Govs success on the court I can say I am proud to be from Nelson County.
Congratulations to the team and the coaching staff.